How to Do a Kitchen Remodel for Under $3000
A kitchen remodel is the single best way to add value to a home. Unfortunately, it can also rack up a pretty big price tag. However, it is completely possible to shape up your kitchen into a beautiful central area for your living space under $3000, but there is a catch.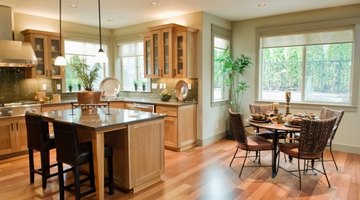 The most expensive part of remodeling a kitchen is the labor cost to do it. If you are willing to do the labor yourself, virtually any kitchen can be remodeled for under $3000 dollars.
Refinish your kitchen cabinets. For the price of stripper, stain and sandpaper, you can have a completely different look in your kitchen by refinishing the cabinets.

Put in a new floor. Vinyl, Linoleum and even tile floors will make your kitchen look completely different and virtually new. Laying vinyl or Linoleum are fairly straightforward, while tile will be a much larger chore. However, for the extra time you put in with tile, the kitchen will look far more elegant and refined when it is finished.

Build a center island. Research plans on the internet or at your favorite home improvement store. They will also have the necessary materials to build one with, as well as the tools you may need. Although this is a complex project, by doing all the labor yourself, it will cost only hundreds of dollars to complete and completely change the shape and feel of your kitchen.

Lay a new countertop. Perhaps the most stunning addition to a kitchen is a granite tiled countertop. With the same skills that are used to tile a floor, you can tile a granite countertop for less than half the price of having it professionally done. Pick out a relatively inexpensive granite tile. Prep the original countertop and glue the tiles down by butting them against each other. Fill in the seams with grout, seal the top, and you have a brand new countertop.

Tip

Be sure to schedule a lot of time for your kitchen remodel. Clear the calendar and recruit some help.
Tips
Be sure to schedule a lot of time for your kitchen remodel. Clear the calendar and recruit some help.
Bribe friends with pizza and drinks if they help you. You will be surprised at who will be willing to help.
Keep your budget in front of you and simply force yourself to buy sensibly and within budget.
Warnings
Don't spend so much on your kitchen remodel that it won't come out at resale.
Avoid moving too quickly through any stage as an out-of-levell countertop or poorly laid tile will bother you for years.
Writer Bio
This article was written by a professional writer, copy edited and fact checked through a multi-point auditing system, in efforts to ensure our readers only receive the best information. To submit your questions or ideas, or to simply learn more, see our about us page: link below.
Photo Credits
Jupiterimages/Comstock/Getty Images
Jupiterimages/Comstock/Getty Images
More Articles