How Can I Get My Shower Tile to Shine?
Remember how shiny those bathroom shower tiles were when they were first installed? Over time, ceramic tiles can lose their shine, becoming dingy looking. In most cases, the dullness is actually caused by soap scum buildup that you can remove with just a little bit of elbow grease and a couple of ordinary household products.
Cleaning the Tile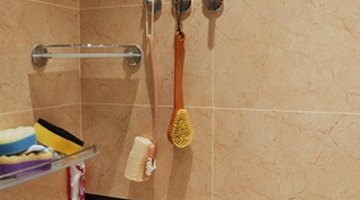 Mix together the salt, baking soda and vinegar to create a paste. Put the paste onto the sponge and scrub the tiles.

Use the toothbrush or Q-tips to clean hard-to-reach places or corners. Let the paste sit for a few minutes before removing it.

Use the bleach to remove any mold and mildew that has built up on the tiles. Apply the bleach directly to the area, allowing it to sit for a few minutes. Rinse thoroughly.

Apply lemon juice to the second sponge and wipe down all the tiles. This step will help create a shine to the tile. The citrus also helps to disinfect and repel mildew regrowth as well as leave the area clean and fresh smelling.

Squeegee off the tile and dry the walls down after every shower in order to help keep the tiles clean and shiny.
References
Warnings
When cleaning with bleach, be careful not to let any get on your skin. Be sure to rinse the bleach off the shower area completely as any residue left behind can be very slippery.
Writer Bio
Kerry O'Donnell has been writing professionally since 2008, when she began freelancing for the online magazine NewEnglandFilm.com. She later became the website's associate editor. She also serves as an associate editor of books for The Independent online magazine. O'Donnell holds an associate degree in criminal justice.
Photo Credits
More Articles