What Is a Deck Mount Faucet?
Table of Contents
Bathrooms are no longer only functional parts of the home; they also provide the opportunity for relaxation in the bath. Deck mount faucets can complement your existing bathroom décor and add character through unique designs and materials.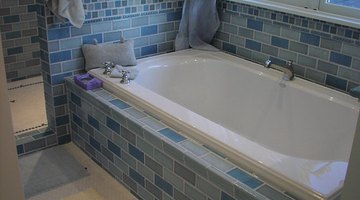 Definition
Tubz.com indicates that deck mounted faucets can be installed directly through a hole in the tub itself or through the decking surrounding a bathtub.
Options
Single hole faucets combine the spout, one lever for controlling water temperature and flow, and a lever for pulling the bath's plug. Two-piece faucets add a hand shower through another hole.
Three-piece faucets separate the taps from the spout, or separate the taps onto a single lever and add a hand shower. Four-piece faucets have separate holes for the spout, each tap and hand shower. Five-piece sets add the hand shower diverter through another hole.
Construction
Purchase deck mount faucets constructed from brass to ensure long life.
Materials
Faucets can be overlaid with decorative materials, including polished or brushed chrome or nickel, shiny or antiqued brass, copper and oil rubbed bronze.
Vintage Tubs
Many vintage tubs are pre-drilled for faucets. Measure handle holes before ordering to ensure your faucet will fit correctly.
References
Information on Tub and Shower Faucets from Keidel.com
Resources
Photo Credits
Image by Flickr.com, courtesy of Andre Chinn
Image by Flickr.com, courtesy of Andre Chinn
More Articles