How to Repair a Porter Cable Framing Nail Gun
Repairing Porter Cable framing nailers is a daunting task that is greatly simplified when you are supplied with an exploded parts diagram showing how the framing nailer is assembled.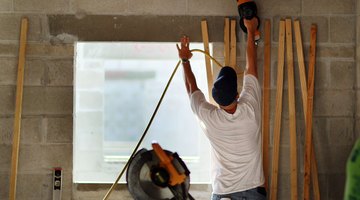 Things You Will Need
Exploded parts diagram
Hex head wrench
Rags or paper towels
Work bench
Replacement parts for those that are damaged
Viewing a labeled visual aid that also shows you how every part is assembled, and in which order, will not only help you identify broken or damaged parts, it will also help you to identify the parts you must order from the manufacturer to complete the repair. Repairs are typically needed in an area called the cylinder where all of the action takes place.
Disconnect the framing nailer from the air supply hose, and allow all of the air pressure in the cylinder to escape out of the quick connect on the back end of the nailer handle grip.

Remove the four cylinder cap bolts that attach the cap to the cylinder housing with a hex head wrench. Leave the cap and the parts connected to the cap assembled, and set them aside on a rag or paper towel on a work bench.

Begin to remove the contents of the cylinder piece by piece until the broken or damaged piece is located. The content of the cylinder includes multiple rubber o-rings that wear out after extended use. O-rings can become pitted or tear, and when this happens, they will not create the air tight seal required to allow the framing nailer to operate correctly. Check the condition of each of the o-rings as you remove them from the cylinder. If they are damaged, order new parts from Porter Cable before reassembling the framing nailer.

Look over each part you remove from the framing nailer to check for damage. Identify other damaged parts on the exploded parts list and order them from Porter Cable.

Replace the damaged parts when they arrive. It will take a few days for your order to arrive, and in that time you may forget how all of the parts go back together. If the parts are assembled incorrectly, the framing nailer will not operate correctly—if at all. Consult the exploded parts list to be sure each part is reinstalled correctly.

Tip

To order new parts, visit http://www.dewaltservicenet.com.
Resources
Tips
To order new parts, visit http://www.dewaltservicenet.com.
Writer Bio
Kelly Nuttall is a student at Utah Valley University in Orem, Utah. She is set to graduate in the spring of 2011 with her bachelor's degree in technical communications. She has been writing for various websites since March of 2009.
Photo Credits
Joe Raedle/Getty Images News/Getty Images
Joe Raedle/Getty Images News/Getty Images
More Articles