How to Clean a Vornado Fan
Vornado fans were introduced in the 1940's by the O.A. Sutton Company, which was well known for its innovative technology. According to its official website, the small electric "Zippi" and "Flippi" fans have soft nylon blades that are considered safer than other fans.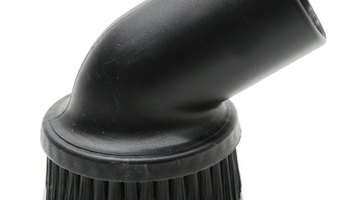 They also have motors that are permanently lubricated and require no oiling. However, the fans do require regular, simple cleanings to keep them running their best.
Things You Will Need
Vacuum cleaner brush or crevice tool attachment
Soft cloth
Electronics vacuum
Turn the fan to the off position and unplug it from the outlet.

Remove dust from the fan grill using a vacuum cleaner with a brush or crevice tool attachment. The attachments will help to clear dust between the individual openings in the fan grill.

Wipe away any remaining dust or residue with a soft cloth. Wipe the cloth over the Vornado fan's grill. For sticky stains, slightly dampen the cloth with water and rub it over the area.

Clean dust from the electronics grill using an electronics vacuum. An electronics vacuum has just enough suction to remove dust without harming the electrical components behind the grill. Run the electronics vacuum several times until all dust is removed.

Tip

The front hub of the Vornado Zippi is removable.Pull the hub straight out and remove any hair or debris that may have wrapped itself around the shaft. Clean Vornado fan's without a grill by wiping down the outer hubs and fan blades with a soft cloth. Some Vornado fans have no front grill that requires vacuuming.

Warning

Do not open the front grill of the Vornado Flippi for cleaning. Only the manufacturer should open those kinds of grills.

Do not oil any of the movable parts on any Vornado fan. Some oils will damage the motor.
References
Writer Bio
Jonae Fredericks started writing in 2007. She also has a background as a licensed cosmetologist and certified skin-care specialist. Jonae Fredericks is a certified paraeducator, presently working in the public education system.
Photo Credits
brush image by Albo from Fotolia.com
brush image by Albo from Fotolia.com
More Articles