How to Cap an Outdoor Faucet
You may need to cap an outdoor faucet as part of winterizing a building or to prevent unsupervised children from using the faucet. The process is fairly straightforward but varies slightly depending on whether you are capping the faucet to prepare it for winter or as a safety measure.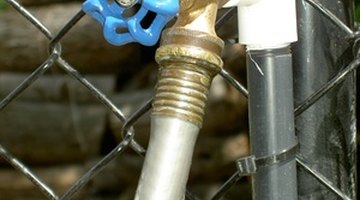 Things You Will Need
1" threaded cap
Wet/dry vacuum
Channel-lock pliers
Shut off the water supply to the faucet if you are capping it for winter. Skip this step if you are capping the faucet as a safety measure.

For winterizing, insert the hose of a wet/dry vacuum, such as a Shop Vac, into the end of the faucet. Vacuum any excess water out of the faucet. Let the vacuum run for a few minutes to get the water out of the pipes attached to the faucet. Skip this step if you are capping the faucet for safety reasons.

Screw a 1" stainless steel cap over the end of the faucet. Most standard faucets will require this size cap. Be careful not to cross-thread the cap onto the faucet. Tighten the cap with a pair of channel-lock pliers.
Writer Bio
Damon Koch has years of writing experience ranging from software manuals to song lyrics. His writing has appeared in software manuals for Human Arc and on the CDs "Small Craft Advisory" and "Impersonating Jesus." He also has worked in building maintenance since 2004. He has attended Lorain County Community College as well as Cleveland State University.
Photo Credits
le robinet image by fotogisèle from Fotolia.com
le robinet image by fotogisèle from Fotolia.com
More Articles