How to Make Homemade Carpet Cleaner to Spread With a Broom
Commercial carpet cleaners can be expensive, and many carpet powders simply add a scent to the carpet without necessarily cleaning it. You can make your own dry carpet cleaner to brush into the carpet. Using a broom, you can reach deep into the fibers of the carpet, deodorizing, cleaning and absorbing moisture.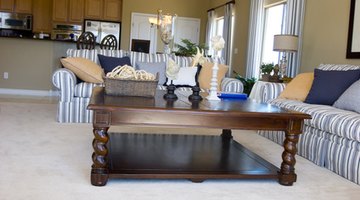 Things You Will Need
Baking soda
Cornstarch
Salt
Borax
Container
Broom
Vacuum
Pour 2 cups of baking soda, 2 cups of cornstarch, 1/2 cup of salt and 1 cup of borax into a container with a lid. This should cover a section of carpeting measuring 10x10 feet.

Sprinkle a heavy dusting of the powder on your carpeting and brush the powder into the carpet fibers with a broom. Run the broom in all directions, working the powder into the pile of the carpet.

Let the powder sit overnight when possible, then vacuum it up. The elements combine to absorb moisture, clean, deodorize and disinfect, leaving you with a fresh, odor- and bacteria-free carpet.
References
Writer Bio
Mel Frank is a professional freelance writer with over 15 years of writing experience. She has completed a wide variety of writing assignments for a number of publications that include CNN and various websites. Frank received a Bachelor of Fine Arts from a prestigious university in Pennsylvania.
Photo Credits
Living room image by MAXFX from Fotolia.com
Living room image by MAXFX from Fotolia.com
More Articles