Recommended Material for Outdoor Signs
Outdoor signs must be tough enough to stand up to everything the weather has to throw at them, but the materials they are made from must be reasonable to work with, to keep the cost of making the sign down.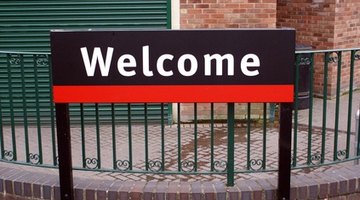 Different materials are suited to different purposes and while outdoor signs come in all shapes and sizes, there are three materials that will suit most needs.
Wood
The main advantages of wood are that it is cheap, durable and can be given many different finishes. When treated correctly, a wooden sign will last for years, and most paints and varnishes will work well on it. In addition, wood can be carved, burned and shaped into many forms to suit almost every need.
Plastic
Plastic is lightweight, hard-wearing and will not succumb to the effects of weathering like wood and metal so it is perfect for an outdoor sign. It comes in many colors and can be molded to any shape you desire, making it perfect for almost every purpose. However, it can react badly with certain paints. Many plastics melt when exposed to heat, so care is needed when positioning or decorating a plastic sign.
Metal
Metal is hard-wearing and lasts for decades. In fact, some signs from the Victorian era are still in use to this day. Metal can be molded to suit almost all purposes and painted in a variety of colors to suit all your needs. However, metal is susceptible to weathering, and a good metal sign can be expensive.
References
Writer Bio
Based in the United Kingdom, April Kohl has been writing since 1992, specializing in science and legal topics. Her work has appeared on the Second Life News Network website and in British Mensa's "LSQ" magazine. Kohl holds a Bachelor of Science in physics from Durham University and a diploma in English law from the Open University.
Photo Credits
sign. welcome sign image by L. Shat from Fotolia.com
sign. welcome sign image by L. Shat from Fotolia.com
More Articles