Can I Put Bleach in a Shark Steamer?
Steam cleaners are a popular tool for cleaning homes. Following usage instructions and properly caring for your steam cleaner will ensure that you receive the best possible results from your steam cleaner, and may prolong the life of your machine.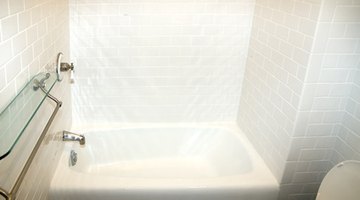 Shark Steamers
Shark Euro-Pro developed the popular line of Shark steam cleaning tools. Some of these products include the Shark Steam Mop, the Shark Steam Pocket Mop and the Shark Portable Steamer.
Benefits of Steam
Using a steam cleaner allows you to get a deep clean and sanitize surfaces without having to use harsh chemicals. With a steam cleaner it is no longer necessary to purchase bottle after bottle of cleaners that can be rough on your hands and often have strong perfumes or chemical odors.
Use Water Only
When using your Shark steamer, only use water. Do not under any circumstances place bleach, cleansers, fragrances or any other items in your Shark steamer. Doing so could cause damage to your machine or make it dangerous to operate.
Hard Water
These steamers are designed to use simple tap water. However, if you have hard water, Shark Euro-Pro recommends using distilled water in your Shark steamer. Doing so will prevent excessive mineral deposits from building up in the machine.
Caring for Micro-fiber Cleaning Pad
The micro-fiber cleaning pads that come with the Shark steamers should be laundered carefully. Never use bleach or fabric softeners. Wash pads separately, or use a garment bag to keep them from picking up lint from other fabrics. Euro-Pro recommends only using liquid detergents. Air drying your cleaning pads is recommended, although they may also be dried in a clothes drier using medium heat.
References
Resources
Writer Bio
Melissa Weeks has been writing art-related articles for eHow and Answerbag since 2010. Weeks earned a Bachelor of Arts in art studio from Coastal Carolina University in 2001.
Photo Credits
bathroom image by Vonora from Fotolia.com
bathroom image by Vonora from Fotolia.com
More Articles