Ideas for How to Cover Bare Bulbs for Basement Lighting
Basement lighting can present problems. Often basements are dark and depending upon the house and your budget, unfinished. If you are in the process of trying to decorate the space, several options exist to cover the bulbs.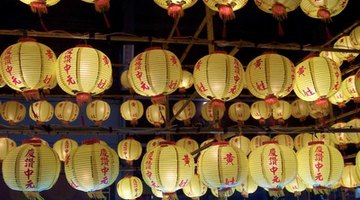 While light covers exist on the market, other more creative possibilities are available to you as well. Some only require a quick purchase at a local home store. Others allow you to flex your creative muscles a bit.
Lanterns
Asian lanterns come in an array of colors and offer a quick fix to the bare bulb problem. When looking for lanterns, consider the colors you've used to decorate your basement. Look for Asian lanterns in matching or contrasting colors. If you have more than one exposed bulb, you have the additional option of choosing lanterns of several colors.
Fabric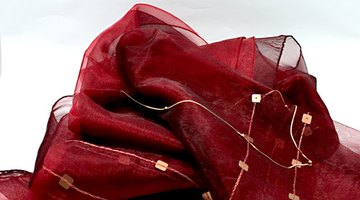 Many basement ceilings have a host of sins, not the least of which is the bare bulb light fixture. If your basement ceiling has lots of exposed beams or pipes and bare bulbs, consider adding fabric to the ceiling. One of the simplest ways to incorporate this look is by gathering long pieces of fabric that still has some opacity, but is not completely sheer. Measure it so that you have a piece that's approximately 2 feet long and 2 feet wide. Gather the ends. Secure them with a fancy rope cord, tying the ends and leaving about 8 to 10 inches of fabric hanging unsecured beyond the cord. Place two ceiling hooks on opposite sides of the light bulb, each about 4 inches away from the light base. Hook the fabric piece onto the hooks using the decorative cord. Make sure the fabric doesn't touch the bulb.
Decorative Garland
If your decor borders on shabby chic, the bare bulbs in your basement might be just the place to try a lighting craft. In this case, you're going to use a bit of heavy craft wire and some garland to create a light cover. Coil some craft wire so that it's shaped like a giant loose spring. You don't want it coiled too tightly. Make sure that its diameter it about 10 inches across and that the length of the coil measures 8 to 10 inches.
Select the type of garland you'd like to use. Some excellent choices include silk grape or maple leaf garlands, which you can find at your local craft store. Start taping the garland to the wire using green florist's tape. You want to tape the garland snugly to the coiled wire and to cover the entire wire. Screw two ceiling hooks to the ceiling near the light bulb; they should be parallel to one another and each about 5 inches from the base of the light. Hook your new garland light fixture to the ceiling hooks. (You don't want to hook this bulb cover directly to the bulb because it could cause an electrical short.) When the light is turned on, it'll cast a leaf-shaped shadow on the ceiling and the surrounding walls.
References
Writer Bio
Buffy Naillon has worked in the media industry since 1999, contributing to Germany's "Der Spiegel" magazine and various websites. She received a bachelor's degree in German from Boise State University. Naillon also attended New York University and participated in the foreign exchange program at Germany's Saarland University. She is completing her master's degree in educational technology at Boise State.
Photo Credits
yellow chinese lanterns image by Paul O'Hearn from Fotolia.com
yellow chinese lanterns image by Paul O'Hearn from Fotolia.com
silk and gold image by Dumitrescu Ciprian from Fotolia.com
More Articles