What Are the Pros & Cons of Living in a Manufactured Home?
The quality of manufactured homes, also called mobile homes or trailers, has improved over the years. The designs come in a variety of styles, sizes, and floor plans. If you are thinking about buying a new manufactured home, weigh the pros and cons before making a personal and financial commitment.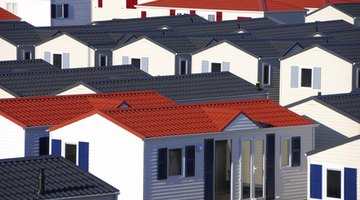 Pro: Inexpensive Alternative
Manufactured homes are an inexpensive alternative to home ownership. The price for a manufactured home ranges from about $15,000 to over $100,000, depending on the area. Modern mobile homes are spacious, with contemporary floor plans that vary depending on the included features. Home sizes range from 900 to 2,500 square feet.
Pro: Amenities
Contemporary manufactured homes include all the features of a traditional home. In some cases, the owner can choose the amenities. A standard model normally has three bedrooms, one bathroom, a kitchen, a living room, and a laundry room. Double-wide models have more features like walk-in closets, fireplaces, and whirlpool tubs.
Pro: Down Payments
Since manufactured homes are generally cheaper than traditional homes, the down payments are smaller. Typically, a down payment on a manufactured home is five to ten percent of the sales price, with mortgage terms of 15 to 30 years. Traditional mortgages are available for purchasers who buy the land on which to place the home.
Con: Land Rental Fees
Homeowners who do not own land must pay land rental fees to live in a mobile home court. Some courts have strict rules regarding pets and lawn maintenance. Many courts require land renters to sign leases that lock them into a location for a set period.
Con: Zoning and Water
Zoning restrictions may prohibit the placement of manufactured homes. Homeowners may have to drill a well, which is costly, if water is not available.
Con: Depreciation
Perspective manufactured homeowners finance homes in the same manner as a traditional home. However, since manufactured homes normally depreciate, banks are hesitant to finance them.
Con: Durability
Manufacturers tend to cut corners. According to a 1999 survey conducted by AARP, over 77 percent of manufactured home owners reported an issue with their home. The most commonly reported problems involved interior issues, leaks, and construction; 61 percent occurred within the first year. According to the CDC, even the most secured manufactured home cannot withstand the wrath of mother nature. Mobile homes can tip over in strong winds like those in a tornado or hurricane.
References
Resources
Writer Bio
Residing in Clarksville, Tenn., Patrice D. Wimbush has been writing since 2002, with her work appearing on various websites. Her areas of writing expertise are contract and criminal law. She holds a Master of Public Administration from Murray State University and a Master of Arts in communication from Austin Peay State University.
Photo Credits
mobiles home 5 image by Marc Rigaud from Fotolia.com
mobiles home 5 image by Marc Rigaud from Fotolia.com
More Articles