How to Hand Paint Wood Signs
Wood signs are used for interior and exterior home décor and for business advertising. Hand painting wood signs is made easier by the array of paint and craft products readily available in discount and craft stores. Stores offer vast selections of stencils for both letters and designs.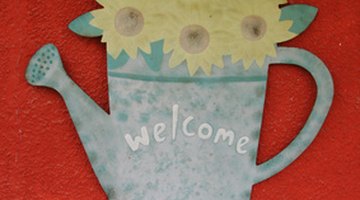 Things You Will Need
Newspaper
Wood sign
Wood sealant
Paintbrush
Acrylic or latex paint
Small paintbrushes
Stencils *optional
Stencil brush and paints *optional
Painter's tape *optional
Sponge shapes *optional
Clear spray paint
Paints consist of indoor craft paint, or weather-resistant exterior paint. Whether you're making a primitive country wood sign, or a fancy wood sign for a child's room, hand painting a wood sign is a project you can accomplish in a weekend.
Cover your work area with newspapers. Place the sign on top. Paint the sign's back with wood sealant. Wood sealants are available at home improvement stores. Wood sealant keeps the wood from absorbing paint. Allow the sealant to dry. Turn the sign over. Paint the front of the sign with wood sealant. Allow the sealant to dry. According to Country Home Décor, wood signs an inch or less in thickness work well.

Paint a base coat of paint over the sign's back. By painting the sign's back first, paint drips on the front will be covered with paint. Allow the paint to dry. Turn the sign over and paint the front. Allow the paint to dry. Use an exterior paint if your sign will be used outdoors. For decorative wood signs, use latex or acrylic paints.

Paint freestyle designs onto the wood sign. According to Country Home Décor, use a color for your lettering or designs that contrasts with your base coat. A fine paintbrush works best. According to Woodshop 102, if painting letters or designs freestyle, load your paintbrush with paint. Push the brush instead of wiping the brush. Dabbing the paintbrush lightly onto the sign instead of stroking produces interesting results. Large signs with large letters can be painted by use of a bingo-paint style bottle filled with paint.

Paint letters or designs onto the wood sign by using stencils. Adhere the stencils to the sign with painter's tape. Often blue, painter's tape is made with a special adhesive that won't pull your paint from the wood. When using stencils, use a stencil brush and stencil paint. Dab the brush into the stencil openings rather than stroking. Dabbing decreases the likelihood of paint seeping beneath the stencil openings.

Stamp designs or shapes onto a wood sign with sponge shapes soaked in acrylic or latex paint. Squeeze excess paint from the shape and press the shape onto the desired area on the wood sign. Allow paint to dry.

Create stripes or plaids on your wood sign by applying painter's tape wherever you want a stripe or plaid pattern. Paint around the tape. Allow the paint to dry. Remove the tape and paint the stripe left behind in a contrasting color.

Place the wood sign onto the newspaper and spray paint the finished sign with a clear coat of paint. Always use spray paint in a well ventilated area, preferably outside in a garage. According to Workshop 102, clear coats protect the lettering and paint.

Warning

Always use spray paint in a well-ventilated area to avoid injuries to the nervous system and brain.
References
Warnings
Always use spray paint in a well-ventilated area to avoid injuries to the nervous system and brain.
Writer Bio
Louise Harding holds a B.A. in English language arts and is a licensed teacher. Harding is a professional fiction writer. She is mother to four children, two adopted internationally, and has had small businesses involving sewing and crafting for children and the home. Harding's frugal domestic skills help readers save money around the home.
Photo Credits
welcome sign image by ann triling from Fotolia.com
welcome sign image by ann triling from Fotolia.com
More Articles