Types of Wallpaper Paste
Wallpaper pastes, also known as wallpaper adhesives, range from eco-friendly homemade varieties to vinyl compositions. Choose a paste based on the type of wallpaper you are hanging as well as the material of the wall.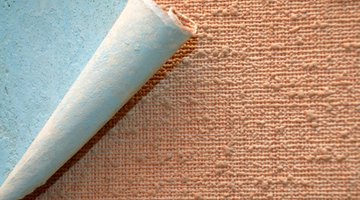 Some combinations will be much more effective than others, so be sure to follow the manufacturer's recommendations.
Homemade
Because many commercial wallpaper adhesives contain toxic chemicals that may emit volatile organic compounds (VOCs), homeowners are turning to natural varieties. Follow the simple recipe of 1 cup flour, 3 teaspoons alum, water and 10 drops of clove oil. The mixture should be heated in a double boiler. Add as much water as needed to create a cream-like consistency. The clove oil acts as a natural preservative and should be added once the mixture has cooled. Apply the paste with a large wallpaper brush just as you would a store-bought variety. Keep your paste in the refrigerator for up to 2 weeks.
Cellulose
Methyl cellulose adhesives are typically sold in powdered form. Cellulose (typically from wood or cotton) is treated with an alkali (such as sodium) and methyl chloride to form the powder. Cellulose powder is soluble in cold water and insoluble in hot water. The water content of cellulose is approximately 97 percent. Most hardware and home and garden stores will carry a cellulose wallpaper adhesive. Mix cellulose just before use according to the package directions. Cellulose paste is particularly suited to grass-cloth and paper backed cork wall-coverings.
Vinyl
There are a number of vinyl varieties of wallpaper paste including two of the most popular both of which are premixed: clay and clear. Clay-based paste is a blend of clay, dextrin and cellulose and has one of the lowest water contents of the commercially produced pastes, at 40 to 50 percent. Clear premixed vinyl begins with a polymer base of either the natural variety, such as wheat or corn starch, or a synthetic version. The polymer base is heated or chemically altered to form the adhesive. Because of the chemical make-up of clear vinyls they may be too harsh for some thin wall-coverings. Vinyls are generally sold in 1 or 5 gallon pails. Vinyl adhesives are often used in commercial applications.
References
Writer Bio
Augustus Clipper began writing professionally online in 2009. His areas of expertise include home gardening, landscape architecture and interior design. He received his Bachelor of Arts from the University of California and his Master of Arts in English literature from New York University.
Photo Credits
wallpaper with a rolled edge image by Cherry-Merry from Fotolia.com
wallpaper with a rolled edge image by Cherry-Merry from Fotolia.com
More Articles