Handicapped Floor Cleaning Products
The differences in residents' disabilities dictate the nuts and bolts for effective floor cleaning products. Due to the fact that a "one size fits all"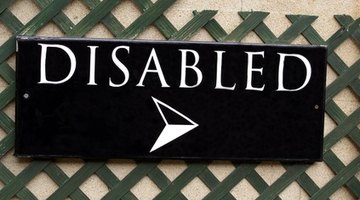 approach does not work in a residential disabled setting, the physical limitations and levels of mobility determine the successful application of any floor cleaner that a disabled resident chooses to use. Adaptations to the home, such as the installation of indoor/outdoor carpeting, to replace slippery kitchen tiles further influences the types of floor cleaning devices that yield the best results.
Robotic Sweeper or Mop
Disabled residents can choose between floor-washing and floor-vacuuming robots. Depending on the manufacturer, the models generally resemble small disks that hold dust and debris or cleaning solutions. Robotic floor washers work on marble, sealed hardwood, linoleum and common tile floors. Floor washers do not require a presweep but instead combine floor prep, washing, scrubbing and final squeegee-action into their work modes. Floor-vacuuming robots eliminate the need to move furniture simply by fitting underneath most tables and chairs. The machines self-adjust when transitioning from hard flooring to a carpeted area, which makes them very versatile in homes featuring carpeting and rugs. Use this machine to periodically vacuum up pet dander, dirt, dust, cat litter and all the other types of debris that fall onto rugs, carpets and hard floors.
Mop Slipper
A resident whose disability primarily restricts upper body functionality -- most notably bending --combines walking with mopping difficult-to-reach areas. When sweeping and mopping vinyl floors and other hard flooring materials, the need for some bending makes cleaning underneath the sofa, table or chairs difficult. Mop slippers let the user sit on a chair while moving the feet to clean the area as far as the legs can comfortably reach. A mop slipper also works for a resident who walks with crutches or the help of a walker. Spraying cleaning solution onto a floor and then walking on it with somewhat slippery shoes can be dangerous; testers recommend wearing only one mop slipper at a time to remain sturdily on the feet while cleaning.
Electric Broom
Opt for an electric broom if the home does not feature a lot of rugs or carpets but has a fair amount of hard surfaces, such as tiles or vinyl. Depending on the manufacturer and model, the disabled resident has the option of adjusting some electric brooms to also work on rugs and carpeted surfaces. These brooms eliminate the need for coordinating a standard broom and dust pan. Operate them while standing or sitting. These brooms clean kitchen floors just as well as bathroom floors or hallways.
References
Resources
Writer Bio
Based in the Los Angeles area, Sylvia Cochran is a seasoned freelance writer focusing on home and garden, travel and parenting articles. Her work has appeared in "Families Online Magazine" and assorted print and Internet publications.
Photo Credits
sign. disabled. wc. toilet image by L. Shat from Fotolia.com
sign. disabled. wc. toilet image by L. Shat from Fotolia.com
More Articles