Can I Use a Floor Steamer to Clean Slate?
Cleaning slate tiles or slate flooring with a traditional mop is difficult because you can't reach the grout in between the tiles. Steam cleaning is not only safe for slate, but completely cleans the area and removes bacteria and other dangerous substances.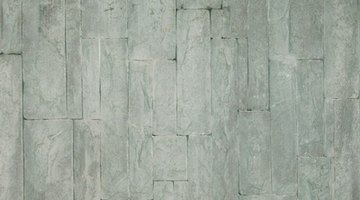 Types
Steam cleaning is possible with either a steam cleaning mop or a steam cleaner. Mops have special grooves that reach the areas in between the tiles. If using a steam cleaner, use a nylon brush attachment, which won't scratch or damage the slate.
Cleaning Process
Before cleaning the slate, vacuum or sweep any dust and debris from the surface. Use a large brush on the top of the slate tiles and then go over the surface again with the nylon brush attachment. You may need to brush away any trapped debris from the grout areas.
Considerations
If you're hesitant to steam clean the slate yourself, hire a professional cleaner.
References
Writer Bio
Jennifer Eblin has been a full-time freelance writer since 2006. Her work has appeared on several websites, including Tool Box Tales and Zonder. Eblin received a master's degree in historic preservation from the Savannah College of Art and Design.
Photo Credits
grey slate image by Barcabloo from Fotolia.com
grey slate image by Barcabloo from Fotolia.com
More Articles