How to Use Oranges as a Spider Repellent
Spiders are an essential part of an ecosystem, as they help to control the insect population.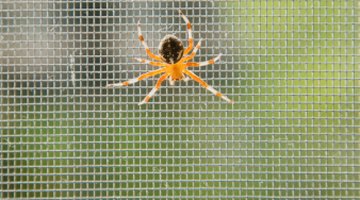 Because spiders are important, those who have arachnophobia, are trying to ward off venomous spiders or are trying to prevent the formation of webs should avoid killing spiders and instead try to find nonlethal ways to repel them. Many spiders have an adversity to citrus scents, so utilizing orange peels is a safe way to keep spiders at bay.
Remove the peel from one or more oranges.

Cut the peel into approximately quarter-inch chunks.

Pour boiling water over half the chunks and leave them to soak overnight. Use a cup of water per orange peel. Strain the chunks and add a quarter cup of witch hazel per orange peel to the citrus water. Witch hazel is a natural astringent.

Add the solution to a spray bottle and use it as a personal, spray-on spider repellent.

Smash the remaining chunks slightly with a pestle to release the citrus scent.

Sprinkle those chunks on top of soil, on cabinet floors and in any other areas where spiders enter or are frequently seen.
Things You Will Need
Orange peel
Knife
Strainer
Witch hazel
Spray bottle
Pestle
References
Writer Bio
Mason Howard is an artist and writer in Minneapolis. Howard's work has been published in the "Creative Quarterly Journal of Art & Design" and "New American Paintings." He has also written for art exhibition catalogs and publications. Howard's recent writing includes covering popular culture, home improvement, cooking, health and fitness. He received his Master of Fine Arts from the University of Minnesota.
Photo Credits
Ron Levine/Photodisc/Getty Images
Ron Levine/Photodisc/Getty Images
More Articles