How to Print on Water Bottles
Water bottles come in every variety and now even some colors. After being used, water bottles still have a life of their own. Teachers often use them for art projects. They can also be used to store liquids and other drinks. This brings up the problem of how to print and write on the water bottle.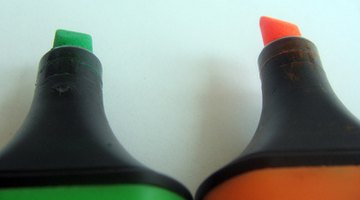 Things You Will Need
Shachihata poster marker
Pentel white marker
Sharpie permanent marker
Labels
Plastic water bottle
Many typical writing utensils won't work on plastic, but there are some that will.
Write on the plastic water bottle with a permanent marker, such as a Sharpie brand marker. Sharpies come in 39 shades and will write on almost any material, including plastic. Whichever permanent marker you choose, anyone who has used one can attest to the fact that once you use it to write on an item, the writing is there to stay.

Use a Pentel white marker to write on your plastic water bottle. Not every type of white marker will work. This type is able to write on plastic and other nonporous materials. It is a quick-drying marker, so it will not have time to fade on the plastic water bottle as you print. Each package comes with two pen nibs for additional usage.

Purchase a Shachihata highly opaque Bullet Point 2.0 mm, BE poster marker. This pen can be used to write larger letters, such as initials. 2.0 mm is larger than the usual nib, so writing smaller letters will prove difficult. These markers will write on virtually any surface. These are perfect for long-lasting, non-permanent printing.

Print on a paper label. Place it on your plastic water bottle. Remember that fluids and humidity might loosen the label, which then might cause it to fall off.
References
Photo Credits
markers image by Aditia Patria Warman from Fotolia.com
markers image by Aditia Patria Warman from Fotolia.com
More Articles