The Best Markers to Paint Vinyl Toys
Adults and children alike can customize vinyl toys with paint markers, either by stripping the paint off an existing toy or by painting a plain one. Munnyworld, which sells blank vinyl toys and features a gallery, shows, and events for its artists, recommends using water-based paint markers to color vinyl toys.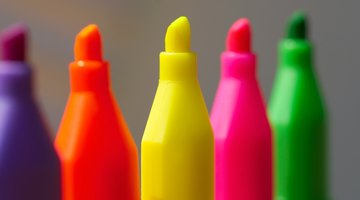 Use these water-based markers in addition to or instead of acrylic paint applied with brushes.
Sharpie
Sharpie, known for its permanent but sometimes rather smelly and non-child-friendly oil-based markers, is new to the water-based paint marker business. Sharpie has jumped in with eighteen different colors, including fluorescents and metallic gold and silver. You can use these pens for scrapbooking, artwork, and other crafts in addition to painting vinyl toys. The pens are also suitable for use by children, however, they are permanent, not washable.
The ink goes smoothly on either dark or light surfaces. The tips are available in medium or fine point. The black pen is also available in extra-fine point. The pens are sold in sets of five colors, three fluorescent colors, or singly. Prices range from about $2 for a single pen to $10 for a set of five.
Sakura Permapaque Opaque Paint Markers
Sakura Permapaque Opaque Paint Markers are non-toxic, free of odors and acids, and don't need to be shaken before use. The colors dry quickly and have solid coverage. They are also suitable for use by children. The markers are sold in fine-tip varieties of sixteen colors, including metallic colors. The set retails for between $25 and $40.
Sakura also makes Dual-Point water-based paint opaque markers that come with two tips, one each end. One tip is chiseled and suitable for covering larger areas, and the other is a bullet point for fine detailing only. The Dual-Point markers come in black, blue, red, and green. The Dual-Point set of four colors sells for between $10 and $15.
Brite-Mark H20
The only drawback to the Brite-Mark H20 pens is the limited color selection. The pens may be used on vinyl, plastic, oily metal, rubber, and glass. These pens come in seven colors: orange, black, blue, red, white, yellow, and green. Sold separately or in the seven-multicolor pack, Brite-Mark pens are priced around $2.50 each. Brite-Mark H20 pen tips are replaceable and come in packs of 10 for $4.00. The only point tip size is medium, so this pen is not adequate if you're doing fine detailing work and need a smaller-tipped marker. These water-based pens may be used by children, since they have no odor or toxicity.
References
Resources
Writer Bio
Margaret Dilloway's debut novel, "How to be an American Housewife," is out now and her second, "The Care and Handling of Roses with Thorns," will be published in August 2012. She has been a writer for more than 10 years and has written for publications such as "San Diego Family Magazine" and the Huffington Post. Dilloway holds a B.A. from Scripps College.
Photo Credits
Jupiterimages/Photos.com/Getty Images
Jupiterimages/Photos.com/Getty Images
More Articles