The Average Cost to Build a Porch
Adding a porch to your home gives you a space to enjoy the comfort of the outdoors without having to go very far. Before you build a porch, consider the available materials, sizes and the overall function of the porch.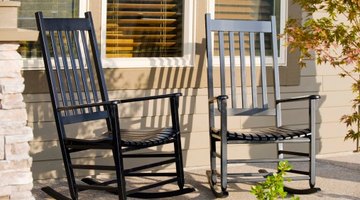 Size
The size of your porch greatly affects its cost. A small, do-it-yourself porch costs $50 to $2,000, as of 2010, according to Cost Helper. Larger porches that require foundations start about $15,000.
Types
You will spend much less on a basic, concrete-slab porch vs. a larger, screened-in porch or sunroom. Prefabricated porches cost approximately $10,000 to $20,000, while a custom porch built by a contractor can cost $45,000, according to Cost Helper. If you plan on using the porch a lot for guests and parties, you may want to spend more on a screened-in porch with a solid foundation.
Features
Features such as porch furniture, customized pillars, railing and other interior and exterior decor will increase the cost of your porch. Also consider how sturdy the porch should be, and order materials accordingly. For example, if you get heavy snow during the wintertime, you'll need a thicker roof and insulated walls.
You may also have to pay for building permits, if required by your municipality.
References
Writer Bio
Amanda Williams has been writing since 2009 on various writing websites and blogging since 2003. She enjoys writing about health, medicine, education and home and garden topics. Williams earned a Bachelor of Science in biology at East Stroudsburg University in May 2013. Williams is also a certified emergency medical technician.
Photo Credits
Jupiterimages/Comstock/Getty Images
Jupiterimages/Comstock/Getty Images
More Articles