How to Launder USMC Dress Blues & White Cover
The United States Marine Corps (USMC) prescribes the proper use and care of uniforms. Dress blues are worn on formal or special occasions. As of January 2008, newly enlisted marines receive a dress blue uniform.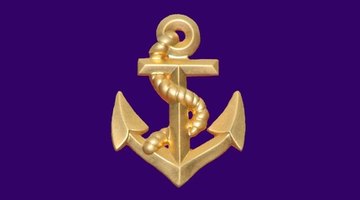 Marines previously enlisted began receiving an increase to their clothing allowance in October 2007 and will have sufficient funds to purchase their dress blues by October 2011 when it becomes mandatory. Since the uniforms are costly, proper care and cleaning is required. Marines are mandated to have their uniform ready to wear and must meet specific standards for inspections. Some pieces of the uniform can be cleaned at home, while others require dry cleaning.
Things You Will Need
Garment bag
Lint roller
Hat box
Soap
Cloth
Paper towel
Brass polish
Polishing cloth
Washing machine
Cleaning
Dry clean your dress blues. Find a dry cleaner that specializes in cleaning military uniforms. There are usually a couple near each base.

Purchase a vinyl topper for your cover -- hat. Remove and clean with soap and water. Dry with a cloth or paper towel. If your cover gets dirty, take it to the dry cleaner.

Remove brass fittings from your belt. Apply a small amount of brass polish to a clean, soft cloth and rub onto the fittings. Polish until shiny. Wipe away any excess cleaner.

Wash your belt in a washing machine on a gentle cycle. Use a lingerie bag, if possible. Avoid using bleach or washing with any fabric that might run. Belts are quite cheap and it is often easier to replace than clean, if it is badly stained.
Storage
Store your dress blues in a plastic dry cleaner bag -- or other garment bag -- in a closet, when not wearing them. Use a lint roller between uses.

Place your cover in a hat box and store on the top shelf of the closet or in another area where it will not get squished or soiled.

Keep ribbons, medals and belts in a drawer. Lie them as flat as possible. Store the backing for your ribbon pins with the ribbons to avoid losing it.
References
Resources
Writer Bio
Based in Toronto, Tanya Gulliver has been writing professionally for more than 20 years. She is pursuing a doctorate in environmental studies focusing on catastrophic disasters. She was first published as a pre-teen, co-writing a weekly events column for her local paper where her goal was to frequently mention her friends and family in the paper.
Photo Credits
marine 2 image by Nathalie P from Fotolia.com
marine 2 image by Nathalie P from Fotolia.com
More Articles