How to Take the Bassinet Covers Off to Wash
The bassinet is a small bed for infants to rest in. Because it is generally smaller than a crib, it is often a transition piece for newborns to infants. In fact, many times a bassinet is in the parent's room while the child is still very young.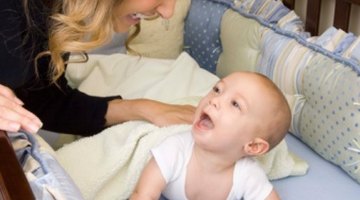 Like the crib, the bassinet has a fabric cover and cushions to provide comfort for little ones. Because all sorts of mess can accumulate on this fabric, it is common to remove these items completely for easy wash.
Things You Will Need
Fabric stain remover
Vinegar
Spray bottle
Sponge
Spot clean the bassinet covers before removing the bedding. For simple cleanups from everyday use, such as milk spills or food mess, a simple spot clean with a warm, wet rag will suffice. Lightly scrub with a fabric stain remover after the stain sets in place.

Pull the mattress cushion from the base of the bassinet. These cushions are usually fitted with sheets that are set in place with elastic bands. You can remove these from the cushion like fitted sheets from conventional mattresses. Check the label for care information, but it is unlikely that the fitted covering will shrink or change shape in the wash.

Untie any bumpers or bedding being held in place with ribbon. If your crib features gaps in between the railings, it is very common to be fitted with bassinet covers that are simply tied or buttoned in place. Remove these from the bassinet for washing.

Follow the instructions on the care label. Bassinet covers are typically durable and easy to wash. In most cases, a simple machine wash and tumble dry will get out ordinary stains. For more delicate material, such as tulle around the bassinet covers or sides should be hand washed in a tub and laid flat or hung to dry.

Use hypoallergenic detergents on the fabric bedding. If your child has sensitive skin, strong detergents with irritating chemicals or strong scents can cause discomfort for your child. Vinegar is an all-natural cleaning solution that can even be sprayed onto vinyl bumpers and wiped away with a sponge for cleaning.
References
Writer Bio
Liza Hollis has been writing for print and online publications since 2003. Her work has appeared on various digital properties, including USAToday.com. Hollis earned a degree in English Literature from the University of Florida.
Photo Credits
Jupiterimages/Creatas/Getty Images
Jupiterimages/Creatas/Getty Images
More Articles