Can Hammer Drills Be Used for Regular Drilling?
A hammer drill works just like a regular power drill but sports an additional mechanism behind the area where the drill bits attach. When activated, this mechanism pulsates rapidly, creating a hammering motion that forces the bit into the project material as it rotates.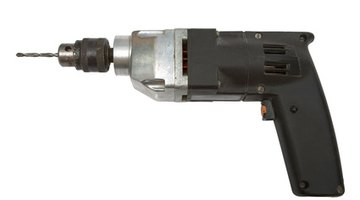 Function
A hammer drill is used when attempting to drill into hard materials such as brick, concrete or masonry. When drilling into softer materials, the hammer mode can be deactivated, allowing use of the tool like a regular drill.
Significance
A hammer drill is bigger and heavier than a regular drill, and operates at higher speeds. Hammer drills typically spin between 1,100 and 3,000 revolutions per minute (rpm), as opposed to the 850 rpm of a regular drill.
Specifications
When drilling into harder materials such as masonry, a specialized drill bit is required. Masonry drill bits have deeper flutes than ordinary wood bits, with a flattened chisel-like tip attached to the end.
References
Writer Bio
Jane Williams began her writing career in 2000 as the writer and editor of a nationwide marketing company. Her articles have appeared on various websites. Williams briefly attended college for a degree in administration before embarking on her writing career.
Photo Credits
Electric drill with a drill on a white background image by terex from Fotolia.com
Electric drill with a drill on a white background image by terex from Fotolia.com
More Articles