How to Finish the Rough Edges of Cut Plexiglass
Plexiglass can be used for many projects in the home from replacing window glass in frames, to making tanks for pets, to making clear tops for end or coffee tables. It can be easy to cut and drill, although sometimes the edges are rough and need to be polished to give the object a finished look. Glue also bonds better when the edges are completely smooth and when making tanks that will hold water, it is essential to achieve a tight seal.
Using Sandpaper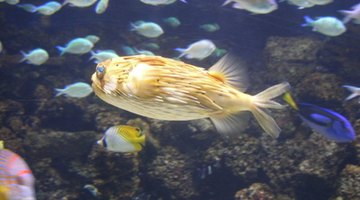 Step 1
Sand the cut edges of the plexiglass with 100-grit sandpaper. The 100-grit sandpaper will remove the most uneven areas on the edges of the plexiglass. Make sure that you are not generating much heat as you sand the plexiglass. Heat can deform the plexiglass.
Step 2
Graduate to the 200-grit sandpaper and sand until the plexiglass is nearly smooth to the touch.
Step 3
Finish by using 400-grit sandpaper in the sanding block if you are using one. The plexiglass should feel completely smooth and have a polished appearance.
Using a Hand-held Rotary Tool
Step 1
Insert a sanding grinder bit equivalent to 100-grit sandpaper into the rotary tool and tighten the bit. Grind off the roughest edges.
Step 2
Switch the grinder bit to a medium grit and continue to smooth out the rough edges. Keep wiping off the dust generated as the tool polishes the surface.
Step 3
Install the finest grinder bit into the rotary tool, tighten it down, and keep refining the edge until it is completely smooth.
References
Writer Bio
Jackie Johnson is a published writer and professional blogger, and has a degree in English from Arizona State University. Her background in real estate analysis prepared her for objective thinking, researching and writing.
Photo Credits
More Articles