List of UL Approved Wood Stoves
Most antique wood stoves have not been approved by Underwriters Laboratories Inc. (UL). The UL is a non-government, non-profit organization that tests and certifies products for safety. Manufacturers are not required to submit their products for testing.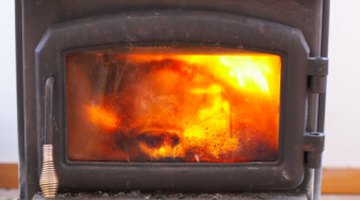 However, some municipalities require that only electrical or heating components that are UL approved be used in their areas. Even if your stove has not been approved, most modern day chimney, stove pipe and other wood stove accessories have, making installation of an older stove safer.
Vermont Castings Resolute Acclaim
The Vermont Castings Resolute Acclaim wood stove is a non-catalytic wood stove that is UL-approved. The Resolute Acclaim is a traditional wood stove that sits on a hearth. It's made of cast iron and coated with enamel. It emits 40,000 British thermal units (Btu's) an hour and can adequately heat a 1,600 square foot space. Logs up to 16 inches in length can be loaded through the top or front of the stove. All Vermont Castings brands of stoves are UL approved.
Cunningham Air Tight Wood Stoves
A box-style stove with curved sides, the Cunningham Air Tight wood stove is UL approved. A porcelain enamel finish with glass coated paint is similar to old style stoves from years past. The stove has a large firebox and large fuel door. Ashes can be removed easily through the front ash door and there is no need for floor protection. The stove can also be installed as close as 20 inches to a side or back wall. The primary combustion chamber is lined with fire brick and the stove has a secondary chamber for cleaner exhaust. It accepts wood up to 18 inches in length and emits up to 75,000 Btu's.
Vogelzang Performer
The Vogelzang Performer is an EPA-certified, UL-approved airtight wood stove that burns up to 119,900 Btu's and can heat up to 2,200 square feet. The Performer is made of heavy-gauge 3/16-inch reinforced plate steel. It has a firebrick-lined combustion chamber, a high speed blower and a large ash pan for cleanup. It will accept logs up to 20 inches in length and can be installed as close as 15 inches from a wall.
References
Writer Bio
Michelle Hogan is a writer and the author of 13 books including the 2005 bestselling memoir, "Without a Net: Middle Class and Homeless (With Kids) in America." Hogan studied English at American University and has been writing professionally since 1998. Her work has appeared in "The New York Times," "Redbook," "Family Circle" and many other publications.
Photo Credits
Jupiterimages/Photos.com/Getty Images
Jupiterimages/Photos.com/Getty Images
More Articles