How to Paint Grapes With Acrylic Paint
Painting grapes with acrylic paint isn't as easy as it sounds, because to be realistic about it, you won't be able to just paint all the grapes the same color. Grapes are often in various stages of ripening, and even if they are all close to the same shade, lighting will affect each grape differently.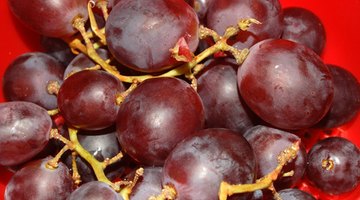 Things You Will Need
Pencil
Canvas or paper
Acrylic paints
Palette or sturdy paper plate
Small, soft artist paintbrushes
The key to creating a quality finished product is to blend different shades of the same color over all the grapes. Blending with acrylic paint must be done quickly, as the paint is water based and dries fast.
Draw the outline of the grapes on a canvas or piece of paper.

Apply dollops of paint in three different shades to a paint palette or paper plate. Grapes vary in color among deep purple, lighter purple, red and green. Whichever color you choose, explore the three different shades carefully to pick a darker, medium and lighter shade of the color. Also include dollops of green and brown for any vines or leaves the grapes have.

Dip a small, soft artist's paintbrush into the darkest shade of the three you have chosen. Paint in each grape with this color.

Wipe away any excess paint from the brush on a clean spot on the palette or paper plate and immediately dip it into the medium shade. Dot the shade around different areas on the outside of each grape. Don't apply the paint to the same spots on each grape, but according to where the main light source in the painting is coming from. For example, if the light source is coming from the left side, the lower right sides of the grapes would be the darkest.

Add small traces of the lightest shade to the highlighted parts of each grape, on the areas closest to the light source.

Paint any leaves or vines present in the grape bunch with green and brown paint.
References
Writer Bio
Amy Lukavics is an Arizona resident who has been a professional writer since 2009. She contributes to the blog Hello, Moon and her writing interests include cooking, crafts, pregnancy, health and beauty.
Photo Credits
grapes #4 image by Adam Borkowski from Fotolia.com
grapes #4 image by Adam Borkowski from Fotolia.com
More Articles