How to Make Sliding Wood Puzzles
A sliding wood puzzle offers a great opportunity to solve a puzzle and learn some problem-solving activities. Oftentimes featured on the television show "Survivor," sliding wood puzzles have been popular in America since the late 1800s.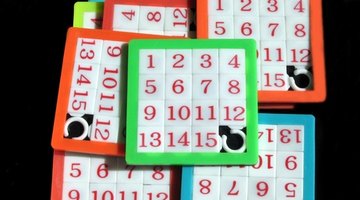 Things You Will Need
Square frame
Piece of wood that fits neatly into the square frame
Handsaw
Ruler
Pencil
Paint
Paintbrush
These puzzles were handmade into gifts for children during wartime when toys were scarce. You can make your own sliding wood puzzle with ease if you have some basic woodworking skills.
Measure the puzzle. The most common sliding wood puzzles involve 15 pieces in a 16-piece area. Make sure you have a square frame. Measure the frame and determine how big each of the 15 wooden squares within should be. Use a pencil to draw a grid that divides the square wooden board into the proper dimensions.

Paint your image onto the piece of wood. Remember to leave one corner of the wood blank, as the finished puzzle will have only 15 pieces. At the end of the day, the goal of a sliding wood puzzle should be to re-create the original image. You can make your image a picture, words, numbers or a combination.

Cut the pieces. Cut the 15 pieces to the proper size by using a handsaw. Insert the pieces into the wooden frame so they all orient in the same direction. Then slide the pieces around to create a puzzle by jumbling them randomly.
References
Writer Bio
Alex Lubyansky has been a writer since 2007. He was a research assistant for the legal publication "Feminist Jurisprudence: Volume IV" and has been published in the Education and Employment Tips section of a prominent website. He holds a bachelor's degree in English from the University of Michigan in Ann Arbor and is currently a law student at DePaul University.
Photo Credits
puzzle. number puzzle. game image by L. Shat from Fotolia.com
puzzle. number puzzle. game image by L. Shat from Fotolia.com
More Articles