Pros & Cons Regarding Ceramic Tile Vs. Travertine Tile Inside the Shower Area
Homeowners have numerous tile choices from which to choose when remodeling their bathroom or shower areas. Natural stone tiles such as travertine and man-made products such as ceramic tile both have pros and cons for use in various areas in the home, including the bathroom.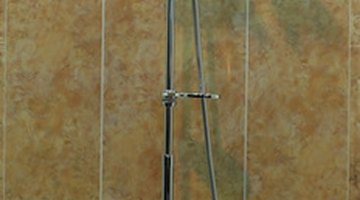 When considering tiles for the shower area, pay particular attention to how the tiles handle moisture. Style and color are secondary considerations.
Travertine Tile
Travertine is a soft, calcareous stone similar in composition to limestone. Both limestone and travertine are sedimentary stones, meaning that minerals and earth have simply hardened in place with no transformation taking place. When travertine receives large amounts of heat and pressure, it becomes marble, a harder form of calcium-based stone. All stones containing calcium as their base are necessarily soft and porous. They can absorb moisture in the shower area, which can stain or discolor them, and in some extreme cases, may pit them. Travertine may be even more porous because of its surface. Travertine naturally has multiple sized pores and holes that go straight through the stone.
Ceramic Tile
Ceramic tile can consist of either wet or dry compressed clay that is fired to high temperatures. A thin glass glaze covers the tiles, which renders the tiles non-porous and water resistant. As long as ceramic tile glaze is intact and has not crazed or received a crackled finish, water in the shower will not stain or discolor the tiles. Tiles that have crazed over time or crackled require care in wet areas; use sealers to fill the cracks and render the tiles non-porous again.
Travertine Appearance and Maintenance
Travertine is a naturally rustic-looking stone that may enhance the look of some rustic bathroom designs. It comes in a palette of tans, browns and golds, with a few stones coming in red and gray. It can be tumbled or honed and will lend texture and character to the area. While travertine will enhance the look of the bathroom, it does increase its maintenance. You must seal the stone regularly against moisture and staining. Use a squeegee after every use to remove excess water from the stones, and filter your water to avoid excess minerals or chemicals, which may damage the tiles.
Ceramic Appearance and Maintenance
Ceramic tiles are available in a wide range of colors, sizes and finishes. They can be glossy, matte or textured and come in nearly every color. Some ceramic tiles look like metal, glass or other materials depending on their features, and they can complement a wide range of bathroom styles. Ceramic tiles require little to no care in the shower area. Inspect them yearly for crazed or crackled tiles and seal any that you find. Otherwise, you can clean them with any cleanser and you don't have to try them after each use.
References
Writer Bio
Sarabeth Asaff has worked in and has written about the home improvement industry since 1995. She has written numerous articles on art, interior design and home improvements, specializing in kitchen and bathroom design. A member in good standing with the National Kitchen and Bath Association, Asaff has working knowledge of all areas of home design.
Photo Credits
shower image by Gina Smith from Fotolia.com
shower image by Gina Smith from Fotolia.com
More Articles