How to Remove Sewer Clean-Out Caps
A home's sewer clean-out is (on most homes) a white PVC pipe that protrudes from the ground near the home or near the street. It provides access to the home's sewer lateral, the pipe that connects the home's waste water system to the municipal sewer.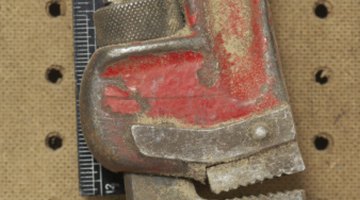 One of the best ways to clear a backed-up plumbing system is to clean out the lateral by entering through the clean-out. Removing the clean-out cap is the first step in accessing the lateral; it should only take a few seconds.
Twist the adjusting nut to open the wrench's jaws wide enough to fit the head of the clean-out cap.

Slide the jaws onto the head and twist the adjusting nut until the jaws are hold the head tightly.

Push the handle to twist the cap counterclockwise and remove the cap.
References
"Plumbing 1-2-3;" The Home Depot; 2001
Writer Bio
Robert C. Young began writing professionally in 1989 as a copywriter for an advertising specialty company. From 2000 to 2007 he operated a real-estate development and construction company. His work has been published online at SFGate and various other websites. He graduated with a Bachelor of Business Administration in economics from Georgia State University.
Photo Credits
Jupiterimages/Photos.com/Getty Images
Jupiterimages/Photos.com/Getty Images
More Articles