How to Paint Ray-Bans
Ray-Ban is a high-end manufacturer of sunglasses that launched its first line in 1937, by Bausch and Lomb. These sunglasses were specially made for the US Army Air Corps, as the government wanted something that would protect the eyes of airmen from the glare of the sun and still look dashing.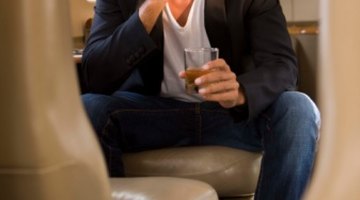 Things You Will Need
Painter's tape, 2 inches wide
Scissors
Newspapers
Latex gloves
Spray paint for plastics and exteriors
Stencils
1-inch brush
Plastic paint
Ray-Ban sales didn't peak until 1982, when it signed a deal for placement of the sunglasses in films and television. In 2007, Ray-Ban introduced interesting patterns, colors and designs. However, if you own a pair of vintage Ray-Bans or want to add a splash of color to more conservative designs, painting them is simple.
Cut pieces of 2-inch wide painter's tape to fit over your lenses. It's OK to layer pieces of tape on top of each other, but cover the lenses and leave all parts of the frame exposed. Be sure to put tape on the front and back of the lenses.

Cut a tiny sliver of painter's tape and place it over the Ray-Ban logo. Take your sunglasses outside and lay several layers of newspaper on the ground in your workspace. Put on a pair of latex gloves.

Spray paint the stems of your frames with spray paint designed for plastic and exteriors. Use the same color for your stems or different colors, or mix and match colors as you please.

Spray paint the frames around the lenses a designated color of your choice. Direct the spray paint as much as you can to the frames. Even though you've protected the lenses with painter's tape, try to avoid spraying them with paint.

Allow the paint to dry overnight. Tape stencils to the sides of the stems with painter's tape and spray on an additional color. Or dip a 1-inch nylon brush in plastic paint and splatter the sunglasses frames with drops of paint.
References
"Big Green Book of Recycled Crafts"; Leisure Arts; 2009
Writer Bio
Lane Cummings is originally from New York City. She attended the High School of Performing Arts in dance before receiving her Bachelor of Arts in literature and her Master of Arts in Russian literature at the University of Chicago. She has lived in St. Petersburg, Russia, where she lectured and studied Russian. She began writing professionally in 2004 for the "St. Petersburg Times."
Photo Credits
Jupiterimages/Goodshoot/Getty Images
Jupiterimages/Goodshoot/Getty Images
More Articles