Specifications for a Millermatic 210 Wire Feed Welder
The Millermatic 210 Wire Feed Welder is an Argon gas mix welder that is meant for light industrial use. (Argon gas mix is argon combined with helium or carbon dioxide, and it is available in a single tank from commercial welding gas suppliers.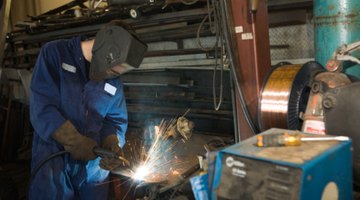 ) Its manufacturer recommends its use for light manufacturing, as well as garages and body shops, vocational training, and farm and ranch use. Therefore, it is a light duty professional welder that can also be used by automotive restoration and customizing enthusiasts.
As of April 2011, the Millermatic 210 is no longer a current model. However, dealers still offer it for sale, and it is also available on the used equipment market.
Physical Specifications
The Millermatic 210 Wire Feed Welder weighs 200 pounds exclusive of its welding gas tank. It is 32 inches high, 19 inches wide, and 39 inches deep. Its power switch, voltage and wire speed controls, and MIG and spool gun cable outlets are found on the front panel. The welder comes equipped with a MIG (metal inert gas) gun that has a 12-foot cable, as well as a 10-foot work cable with a standard clamp on the end. The housing is painted in the trademark "Miller Blue" bright blue color.
Technical Specifications
This welder operates on 208- to 230-volt electricity, which is then converted by its internal transformer to DC current. A specially wired outlet must be installed in a home or shop which uses standard 110-volt electricity. The DC voltage depends on which of the 7 voltage settings are selected, and the maximum is 34.5 volts. At 60% duty cycle or 24.5 VDC, its output is 160 amperes, and its output range is from 30 to 210 amperes. Wire feed speed is from 35 to 700 inches per minute, again depending on the chosen setting.
Welding Processes and Specifications
The Millermatic 210 Wire Feed Welder is recommended for both metal inert gas (MIG) welding and flux cored (FCAW) welding. It accepts .030/.035 inch wire and includes reversible dual groove drive rolls. This welder is capable of welding materials up to 3/8 inch thick in a single pass. The MIG gun is rated at 250 amps, with a trigger rating of one million cycles.
Other Specifications and Features
The Millermatic 210 features an industrial, dual-gear drive system and drive rolls that can be changed without tools. The thermal overload protection function shuts down the machine in the event of overheating, and it is shipped with factory-installed dual gas solenoids. An Argon mix regulator/flow gauge and hose are also included as standard equipment, as are extra contact tips and a running gear-cylinder rack.
Warranty and Manufacturer Information
The welder is guaranteed for three years, parts and labor, and the supplied gun is guaranteed for 90 days, parts and labor. The original main power rectified parts (parts running on the DC transformer) are guaranteed for five years.
The Millermatic 210 Wire Feed Welder is made in the USA by Miller Electric Mfg. Co, of Appleton, Wisconsin, which is a division of Illinois Tool Works.
References
Writer Bio
John DeMerceau is an American expatriate entrepreneur, marketing analyst and Web developer. He now lives and works in southeast Asia, where he creates websites and branding/marketing reports for international clients. DeMerceau graduated from Columbia University with a Bachelor of Arts in history.
Photo Credits
Jupiterimages/Photos.com/Getty Images
Jupiterimages/Photos.com/Getty Images
More Articles