How to Cut a Five-Point Wooden Star
Creating a five-point wooden star for a woodworking project is easy if you can draw an equal-sided five point star for a pattern on your wood. If you aren't particularly skilled with a drawing pencil, then you may have to improvise a bit, but the task can still be completed with a minimum of frustration.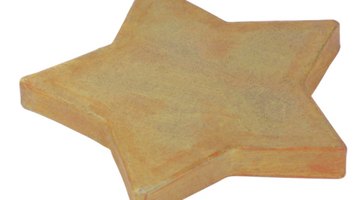 Things You Will Need
Computer
Printer
Paper
Scissors
Wood clamps
Work bench
Jig saw
If you have access to a computer and a printer, then you can create the perfect template from which to base your own five-point wooden star.
Find an outline of a five-point star on the Internet or in the clip art included in your computer. Print out this image on your computer printer at the size that you require.

Cut out the star from the paper with the scissors, and then place it on the wood board out of which you wish to cut the star. Draw the outline of the star on the wood using the pencil.

Clamp the board to a secure work bench with the star hanging over the end of your bench so that you won't cut the bench with the jig saw.

Hold the jig saw with its metal base flat on the wooden board. Align the jig saw blade up with the outline of the star, and then pull the jig saw trigger to start the blade.

Press the blade into the wood, following the outline of the star as it cuts.

Tip

Wear protective eye wear while cutting the wood to prevent eye injuries.
References
"Woodworking Basics: Mastering the Essentials of Craftsmanship"; Peter Korn; 2003
"Woodcarving: Tools, Material & Equipment, Volume 1"; Chris Pye; 2002
"The Complete Manual of Woodworking"; Albert Jackson; 1996
Tips
Wear protective eye wear while cutting the wood to prevent eye injuries.
Writer Bio
Don Kress began writing professionally in 2006, specializing in automotive technology for various websites. An Automotive Service Excellence (ASE) certified technician since 2003, he has worked as a painter and currently owns his own automotive service business in Georgia. Kress attended the University of Akron, Ohio, earning an associate degree in business management in 2000.
Photo Credits
Hemera Technologies/PhotoObjects.net/Getty Images
Hemera Technologies/PhotoObjects.net/Getty Images
More Articles