How to Make Antiquing Paint Wash
Paint finishes that make furniture look antique are a commonly used technique. Most paint stores will have aisles dedicated to the glazes, stains and milk paints used in antiquing.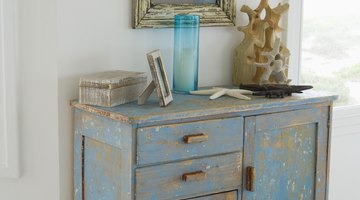 Things You Will Need
Paint
Water
Glaze
Paint brush
Wet rag
As an addition to the painting, antiquing involves the judicious use of sandpaper, sanding away bits of the new topcoat to expose the bare wood or basecoat underneath. Many people also like to add dings and dents to the furniture with a hammer, chain or a screwdriver.
Clean the item you are painting with a wet rag to remove dirt and oils.

Paint a basecoat. This coat will show through the distressed topcoat. Let the paint dry. Sand bits of paint to distress the furniture. Corners, edges and the tops of chair arms are places that usually show more wear.

Paint on the antiquing glaze in sections and wipe it off with a sponge or rag to create a streaking effect. Alternatively, create a wash of one part paint to four parts water. Add more water for a thinner wash, less for a milkier wash. Paint the wash on top of the dry topcoat. The paint is thinned by the water and goes on in streaks, with the sanded parts showing a darker color.

Tip

Oil-based paints should be thinned with one part paint thinner instead of water.
References
Tips
Oil-based paints should be thinned with one part paint thinner instead of water.
Writer Bio
Jill Kokemuller has been writing since 2010, with work published in the "Daily Gate City." She spent six years working in a private boarding school, where her focus was English, algebra and geometry. Kokemuller is an authorized substitute teacher and holds a Bachelor of Arts in English from the University of Iowa.
Photo Credits
Goodshoot/Goodshoot/Getty Images
Goodshoot/Goodshoot/Getty Images
More Articles