What Can Be Used Instead of Plastic Shower Wall Surrounds in a Mobile Home?
Mobile homes are typically designed with plastic shower surrounds. These surrounds are cost effective, but not always attractive. If you are remodeling your mobile home's bathroom, there are a few options for replacing this old plastic surround.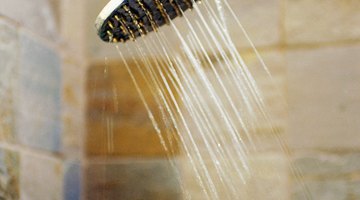 Keep in mind that the material you use has to be waterproof -- not just water-resistant.
Tiling Around the Shower
You can tile around a shower to provide a custom surround. You can even lay this tile over an existing plastic surround to save time and money with your remodel. Glass and ceramic tiles are ideal for bathrooms. You can use marble and tile made of other natural materials, if they are sealed properly for use in a bathroom. This process of tiling is quite simple and you can design your own tile lay-out to give your bathroom a custom look.
Tile Boards
Tile boards offer an alternative to traditional tile while providing the same look. These boards are designed for use in bathrooms and can be installed directly over greenboard, which is water-proof drywall -- or adhered to the wall studs. You will have to remove the existing surround before you can install tile board. For those who want the look of tile without the installation process, tile boards work well. The cost for tile board is also much less than the cost of regular tile.
Drywalling a Mobile Home Bathroom
You cannot use regular drywall in a bathroom due to moisture and humidity. This will cause regular drywall to disintegrate over time and increases the potential for harmful mold. Greenboard is the only type of drywall recommended for use in bathrooms. You can install greenboard over the wall studs and then paint with an oil based paint, if the joint compound is water-proof and the seams are caulked to prevent moisture build-up.
Laminate Products
Laminate products are not just for vanities and countertops. You can install this product over greenboard or backerboard. Laminate comes in many different finishes, even marble, and offers an expensive look at a very low-cost. Take care when caulking laminate during installation to avoid moisture build-up behind the surface. If you have always wanted a marble shower surround but could not afford it, laminate offers a cost-effective solution.
References
Writer Bio
Kate McFarlin is a licensed insurance agent with extensive experience in covering topics related to marketing, small business, personal finance and home improvement. She began her career as a Web designer and also specializes in audio/video mixing and design.
Photo Credits
Thinkstock Images/Comstock/Getty Images
Thinkstock Images/Comstock/Getty Images
More Articles