How to Change the Color of a Washer & Dryer Without Painting
Changing the color of your washer and dryer does not require painting the appliances, which can cause more harm than good and create a messy situation. Instead, use appliance film, which is designed to give appliances a new look quickly while protecting the surface of your washer and dryer.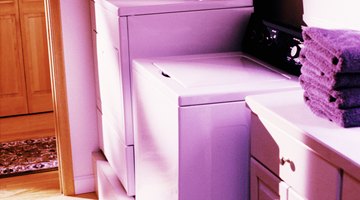 Things You Will Need
Dish soap
Cloths
Towel
Tape measure
Scissors
Appliance film
Squeegee
Paper towels
Appliance film is available in a wide array of finishes, including stainless steel. In addition, the films are scratch-resistant, stain-resistant, fingerprint-resistant and chemical-resistant.
Wipe the washing machine with a damp, soapy cloth to remove surface debris. Rinse with a damp cloth and wipe the surface dry with a towel.

Measure the width and height of the washing machine with a tape measure. Add 1/2 inch to each side of the washer. Use a pair of scissors to cut the film to the correct width and height -- without forgetting the extra 1/2 inch on each side.

Mist the entire surface of the washing machine lightly with water.

Place the film on a clean, level surface with the backing up. Start at the top corner of the backing and carefully pull the first 4 inches of the backing off the film.

Place the back -- the sticky part -- of the film on the corresponding corner of the washing machine. Press the sticky film against the washer while smoothing the film with your clean hand. Smooth from the center of the film toward the edges. Continue pressing and smoothing the film while removing the backing paper.

Remove any air bubbles from the film by pressing them out with a squeegee. Start in the middle and work your way towards the ends.

Remove excess film on the sides of the appliance with a clean, sharp utility knife. When cutting the film, use one continuous motion for best results. Wipe excess water off the installed film with a paper towel.

Repeat the entire process on the dryer.
References
Writer Bio
Amanda Flanigan began writing professionally in 2007. Flanigan has written for various publications, including WV Living and American Craft Council, and has published several eBooks on craft and garden-related subjects. Flanigan completed two writing courses at Pierpont Community and Technical College.
Photo Credits
Jupiterimages/Photos.com/Getty Images
Jupiterimages/Photos.com/Getty Images
More Articles