How to Remove the Housing on a PYE2300AYW Maytag Electric Dryer Lint Filter
When you accidentally drop the cap to a detergent bottle or some other foreign object into the lint filter housing, you must retrieve it from the housing. You will need to remove the housing to retrieve the object. The lint filter housing connects to the bottom of the dryer door and protects the blower wheel from filling up with lint. The area toward the bottom of the housing can get very hot and foreign objects can cause damage to your housing, blower wheel and even the drum.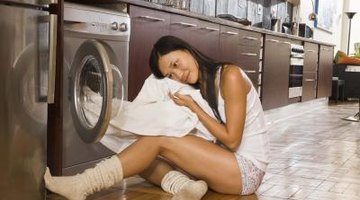 Step 1
Unplug the Maytag PYE2300AYW Performa power cord from the dryer outlet. Pull the dryer 2 feet away from the back wall. This will allow room to raise the top of the dryer.
Step 2
Wrap the blade of a 2-inch putty knife with duct tape or masking tape. Wrapping the putty knife will protect the enamel finish of the dryer. Insert the putty knife between the front and top panel 4 inches from the right front corner. Depress the locking clip with the putty knife blade and lift the top right corner of the dryer. Continue lifting the dryer top to release the left front corner and raise the top back toward the rear of the dryer.
Step 3
Find the white wiring harness connecting to the door switch on the inside right-hand corner of the dryer cabinet. Press the wiring harness side tabs with your fingers and pull the wiring harness off the door switch.
Step 4
Locate the screws at each top front corner that secure the front panel to the side panels. Remove the screws with a Phillips-head screwdriver. Swing the top of the front panel toward you slightly and lift the panel up to release the bottom tabs. Pull the front panel away from the dryer.
Step 5
Open the dryer door and remove the two screws securing the dryer lint housing to the front panel with a Phillips-head screwdriver. Pull the lint filter out of the housing and pull the dryer lint housing away from the dryer front panel.
References
Warnings
Always disconnect power from appliances before attempting repairs.
Writer Bio
Kenneth Crawford is a freelance writer with more than 10 years of experience. His work has appeared in both print and online publications, including "The American Chronicle." Crawford holds an associate degree in business administration from Commonwealth College.
Photo Credits
Jupiterimages/BananaStock/Getty Images
More Articles