Extending a Room Into Attic Space
Table of Contents
Extending an existing bonus room, bedroom or other area into unused attic space can offer a cost-effective remodeling option that doesn't require adding on.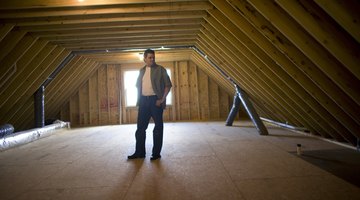 While unfinished attic space may lack features such as insulation, plumbing and air conditioning, the primary framing and structural elements may already be in place.
Approvals, Permits and Inspections
Building permits, plan approvals and inspections are required for most construction projects. The exact requirements and process for completion will depend on many factors, such as city, county and state jurisdictions, type of project and elements of the project. Extending into an unfinished attic space may require electrical work, plumbing, heating and air conditioning, structural reinforcement and other work that requires permits and inspections. This topic should be carefully addressed prior to any work in order to avoid work stoppage or fines.
Structural Reinforcement
Roof joists were designed to support the roof and may not be adequate to support new room construction. Installation of floor reinforcement or independent support joists should be addressed by a structural engineer or qualified contractor. The planned purpose of the new space and an estimate of the weight involved will factor into how the floor should be reinforced. Bracing of vertical roof joist sections may also be required to provide solid framing for wall coverings such as drywall or plywood.
Environmental
Ducts for heating and cooling will need to be installed and tied into existing supply ducts. This will place additional strain on existing equipment and may require an upgrade for efficient operation. Room space heaters or portable air conditioners can offer an easier, more cost-effective solution. Ventilation of new attic spaces may require installation of attic fans or roof vents.
Insulation
Insulation of unfinished attic spaces should include blanket fiberglass rolls or spray foam for the ceiling, blanket rolls for walls and additional blown-in cellulose insulation for the remaining attic spaces. Proper insulation will ensure a comfortable room temperature, prevent moisture or water damage from condensation and reduce noise transmission.
Utilities
Electrical work for lighting and power outlets should be planned and installed by a qualified electrician. For a new bathroom, plumbing, drains and water supply lines will require installation by a licensed plumber. Low-voltage wiring for telephone, cable TV or home computer network may not require a permit.
Flooring
Flooring for the new space can include carpet, which will provide a cozy feel for a bedroom, study or kid's playroom. Carpet will also reduce the level of impact noise transmitted to lower living spaces. Wood or laminate floors can give a more formal look to home offices but can be loud without sound padding.
Loft Space
Unused attic space can be tied into a lower room to create a loft space. This may require cutting and reinforcement of roof joists, which should always be completed by a qualified contractor. The addition of stairs can reduce usable space in the existing room.
References
Resources
Writer Bio
Jeff O'Kelley is a professional photographer and writer, currently based in the Tampa, Florida area. His images and words have been featured by websites and publications such as CNN, Creative Loafing and Tampa Bay Times. O'Kelley holds associate degrees in telecommunications and website design from St. Petersburg College.
Photo Credits
David Sacks/Lifesize/Getty Images
David Sacks/Lifesize/Getty Images
More Articles