How Do I Convert a Hay Loft into a Room?
Converting an idle hay loft into a room can result in a dramatic living space. A hay loft's open space tickles the imagination with almost unlimited layout possibilities. Traditionally, hay lofts were located on the second story of a barn and equipped with a ladder and hay hole through which hay could be pitched down to livestock. Many barns, from Pennsylvania bank barns to western-style pioneer barns, sport hay lofts. Creating a room with modern conveniences from a well-worn barn has its challenges, but with perseverance and thoughtful planning you can build a one-of-a-kind retreat.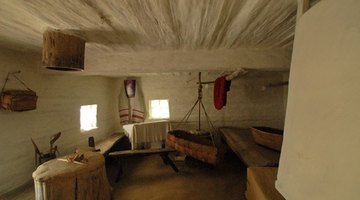 Draw a plan. Mistakes on paper cost less to fix than mistakes made during the renovation.

List the job priorities and tackle renovations in a systematic manner. For instance, fix the leaky roof before you refinish the floor.

.

Hook up electrical lines early in the renovation process so you can run power tools on site.

Frame the room. Two-by-four framing is adequate since the barn's post and beam structure will be holding the weight.

Replace windows. Wood-framed windows will be in keeping with the barn's rustic style.

Build stairs. Access to the hay loft can be through the interior of the barn or via the exterior. If the hay loft room is the only area of the barn that you are renovating, consider exterior stairs.

Insulate and finish the ceiling. Install foam core sheeting to vent moisture before installing regular insulation. Finish the ceiling with gypsum wallboard or with tongue and groove lumber.

Insulate the room. If you plan to leave the interior rustic, sheathe the exterior with insulated panels.

Refinish the hay loft floor. This is where much of the wear and tear of the hay loft has occurred, so it may take the most work to repair. Consider insulating the floor from below.

Install light fixtures. Arts and Crafts or rustic-looking lights will be in keeping with the barn's style.
References
Tips
Consider getting professional help to draw up plans and work on mechanical issues like heating, plumbing and wiring. Renovating a barn is no job for an amateur.
Photo Credits
country house interior image by Denis Avetisyan from Fotolia.com
More Articles