How to Clean a Construction Site
The construction process involves a large amount of materials and employees who are often working on a tight schedule. It's no surprise then, that at the end of most projects the site is quite messy, full of debris, extra materials and dirt.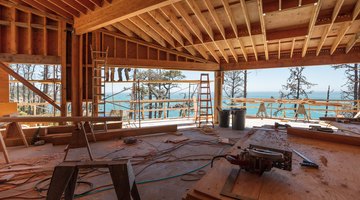 Before the building can be considered complete, the site must be cleared of all construction materials and the building must be cleaned from top to bottom. This work is typically performed by a construction cleaning crew. Large companies may have one of these teams on staff, or they may subcontract the work out to specialty cleaning companies.
Things You Will Need
Project manual or specifications
Dumpsters
Temporary fencing
Clean supplies
Investigate the recycling requirements in your region. In most states, construction companies are required to recycle certain materials, including drywall, wood, metal, and even concrete. Check with your state's recycling department to see what is required and where it should be taken.

Check with the project team to determine if the project is working towards any LEED certifications or other green building awards. Under the LEED program, a project may be required to recycle up to 95% of construction debris. In order for the project to gain these certifications, your cleanup team must comply with LEED standards.

Set up separate areas on the site where your employees or laborers can collect materials for disposal. For smaller jobs, use individual dumpsters. On larger projects, use plastic fencing to block off an area.

Mark your collection areas. Create separate areas for drywall, metals, wood and any other material that is being recycled. As your employees collect these materials, they can place them in the appropriate areas.

Rent several dumpsters to accommodate materials that can't be recycled, including one for general debris.The average dumpster company won't accept concrete or masonry because of the weight.

Remove all the larger items from the site and place them in the appropriate area or dumpster. Have disposal and recycling companies pick up the materials. You will have to pay for both of these services, but you may recoup some of these costs when you recycle metals, especially copper or aluminum.

Perform your final cleaning. This includes sweeping and mopping floors, washing mirrors and windows, and cleaning countertops and equipment. Again, keep any project LEED requirements in mind, as they could affect what kind of cleaning materials can be used. Remove window stickers by gently scraping them off, being careful to protect the glass. Finally, remove protective devices, such as cardboard and plastic covers from glass, equipment, and floors.

Tip

Keep copies of all recycling tickets and receipts so you'll have records for your state or for any applicable green building certifications.
Writer Bio
Emily Beach works in the commercial construction industry in Maryland. She received her LEED accreditation from the U.S. Green Building Council in 2008 and is in the process of working towards an Architectural Hardware Consultant certification from the Door and Hardware Institute. She received a bachelor's degree in economics and management from Goucher College in Towson, Maryland.
More Articles