How to Frame a Fireplace
Framing a fireplace is commonly done when using gas or electric fireplaces. You have many choices in placing this type of fireplace and how you want it to look. These factors all make a difference for the finish materials being used around the gas "fireplace" unit its self.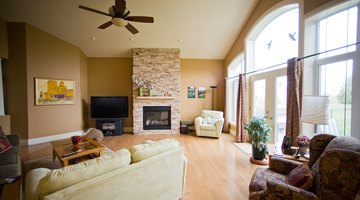 Things You Will Need
Tape measure
Saw
Level
Hammer
3/4" OSB
2x4s
Build the front wall with the R/O (rough opening) of the fireplace just like a standard window. There should be a header above the fireplace R/O to transfer the load from above around the opening. The height that the fireplace R/O starts depends on how it will be finished. Example: if using 12" tile going around the R/O or face of the fireplace unit, the height should be 12", 24" or 36" off the floor so the finish work fits nicely.

After the basic frame/box is built for the fireplace, build a floor and ceiling inside the walls where the unit sits. The floor can be framed out of two 2x4 knee walls with 3/4" OSB covering the floor. The ceiling is done the same way.
Writer Bio
This article was written by PocketSense staff. If you have any questions, please reach out to us on our contact us page.
Photo Credits
Jupiterimages/Photos.com/Getty Images
Jupiterimages/Photos.com/Getty Images
More Articles