How to Install Carpet on a Platform
Installing carpet on a platform is often easier than installing a carpet in a room because you do not have to walk on the platform to stretch the carpet from one side to another. To install carpet on a platform, you can work from the ground or a ladder and install the carpet without having to walk across it.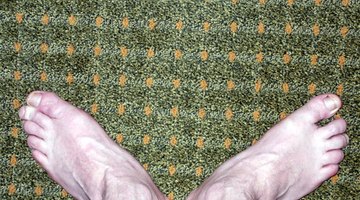 Working on all sides of the platform allows you to effectively stretch the carpet onto the platform.
Things You Will Need
Tackless strips
Carpet tacks
Tack hammer
Tape measure
Carpet roll
Utility knife
Carpet glue
Glue trowel
Staple gun
Staples
Tip
Staple the loose edges of the carpet onto the underside of the platform to prevent the carpet from coming loose from children or pets pulling on the loose edges.
Attach tackless strip along all edges of the platform. If you want to drape the carpet over the edges of the platform, install tackless strips along the underbelly of the platform to hold the carpet in place. To attach the strips, drive tacks through the strips and into the wood of the platform subfloor.

Measure the top surface of the platform to cut an appropriately sized piece of carpeting from the roll with a utility knife. If you are draping the carpet over the edges of the platform, add the platform thickness to all edges, in addition to 6 extra inches on all edges.

Start at one corner of the platform, farthest from the stairs or ladder, and hook the carpet into the tackless strips in that corner. Unroll the cut carpet and apply carpet glue to the platform with a glue trowel as you work your way to the steps or ladder.

Work your way along the edges of the platform, from the ground or a ladder and stretch the carpet and hook it down onto the tackless strips. Have an assistant pull from the opposite side to effectively stretch the carpet before the glue dries and the carpet ends up with wrinkles.

Tuck the carpet down over the edges of the platform once the carpet on top of the platform is smoothed down and secured. Tuck the carpet underneath and hook it into the tackless strips attached on the underside of the platform edge.
References
Resources
Writer Bio
Stephanie Daniels is a freelance writer residing in Louisa, Kentucky. Daniels focuses on parenting, children, gardening and home-decor articles. She was the manager of Home Decor for Home Depot for 4 years. Daniels has written for many online publications and enjoys ghostwriting.
Photo Credits
feet and carpet image by jimcox40 from Fotolia.com
feet and carpet image by jimcox40 from Fotolia.com
More Articles