How to Build Near Property Lines
Property lines are the boundaries as defined by a plot survey of privately owned property. When building a structure on privately owned property, the property lines and the property setbacks will determine the potential building area.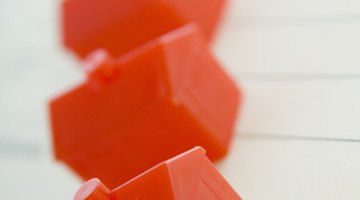 Setbacks are the county administered amount of space that must be undeveloped between a property line and a structure. Each county of every state defines these setback building regulations individually, and therefore they vary from county to county.
Things You Will Need
Construction flagging
Plot survey
Tip
Sometimes the corners of a property that has been previously surveyed are marked with metal stakes. Locating these metal stakes can help you determine the boundaries of your property line and aid in determining the setbacks for building near property lines.
Mark the lines of your property. You can mark and define the boundaries or lines of your property by consulting your property plot survey that is included with or on your property deed as well as on or with your building permits and other permits that are issued for events such as septic, water, well and city sewer installation on your property. If you have not had a formal survey completed or cannot locate a copy or original of your property deed, you must have a survey completed by a county licensed property surveyor. Property lines can be marked every 8 feet with construction flagging and then bright colored construction spray paint can be sprayed on the ground to clearly mark the property lines if needed.

Check your local codes to determine the setback regulations for building on your property. These regulations can usually be found online at your official county website in the county building codes literature. This can also be found by contacting a local builder or contractor and consulting him on building codes.

Measure from your property lines the distance, as deemed by your county, of your setbacks, and set up flagging within your property lines if necessary to clearly mark the area in which you can build on your property.
References
Resources
Writer Bio
Joshua Kinser began writing professionally in 1999. He has worked as a staff writer for the "Pensacola News Journal" and is the author of Moon Handbook's "Guide to the Florida Gulf Coast." Kinser earned an Associate of Arts in journalism with an emphasis in biology from Pensacola State College.
Photo Credits
property image by Philip Date from Fotolia.com
property image by Philip Date from Fotolia.com
More Articles