Decorating Rules for Wainscoting
Installing wainscoting is a great option for adding architectural, dimensional details to a space without having to make elaborate structural changes. Wainscoting refers to a particular type of wood paneling, which runs along the lower sections of the walls of a room, similar to an over-sized baseboard trim.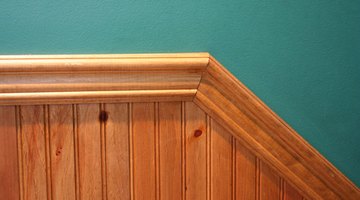 If you are considering incorporating wainscoting into an interior design, there are several rules that can help.
Selecting a Style
It is important to select a style of wainscoting that matches the decor of your space. For example, in a sleek, modern-style living room, wainscoting with simple, linear horizontal borders would work well, while wainscoting with lavish ornamentation and complex patterns would likely seem out of place. According to Reliable Remodeler, one of popular wainscoting style is bead board, which consists of repeating verticals strips that are typically two inches wide. Another common style, which offers a more classic look, is using repeating sections of raised rectangles or squares in the wainscoting panels.
Height
Most wainscoting, as Better Homes and Gardens notes, reaches to be between 32 and 36 inches above the level of the floor. As a general decorating rule, you should match the height of the wainscoting you use to the height of the room. In a room with low ceilings, stick with short wainscoting; otherwise, your walls may appear cluttered and space cramped. For rooms with higher ceilings, use taller wainscoting, as it will help anchor your space. According to Old Fashioned Living, one way to determine the perfect height for your wainscoting is to use a section of poster board or cardboard as a guide. By raising and lowering this faux wainscoting section against a wall, you can decide which height works best in the space.
Staining and Painting
As Better Homes and Gardens notes, it is always best to stain or paint your wainscoting prior to installing it. This will save you the hassle of having to frame the wainscoting with tape where it meets the walls and floor. When it comes to choosing a color for your paint or stain, wood tones and shades of white are the safest and most common options. However, according to Reliable Remodeler, exploring bolder alternatives for your wainscoting color will likely workout stylistically, provided you use a light, neutral shade for the rest of the walls in your space. Avoid bright and ornate wallpapers, as they--in combination with the wainscoting--will make your walls appear busy and overbearing.
Staying Straight
Never line up the base of your wainscoting with the floor when you are installing it, as your floor can potentially contain bumps or have a slight slant. Instead, as Better Homes and Gardens notes, position the wainscoting slightly above the floor and use a level to mark a straight line across its top on the wall. You can then add a baseboard over the bottom edge of the wainscoting to hide any open spaces between it and the floor.
References
Writer Bio
Erik Devaney is a writing professional specializing in health and science topics. His work has been featured on various websites. Devaney attended McGill University, where he earned a Bachelor of Arts in humanistic studies.
Photo Credits
moulding image by Jim Mills from Fotolia.com
moulding image by Jim Mills from Fotolia.com
More Articles