How to Remodel Open Riser Stairs
Stairs with open risers can look appropriate for a time but you may eventually tire of the look. For example, risers without back sections can give a home a high-tech ambiance. If you want a more traditional staircase, you'll have to figure out the best way to enclose the risers.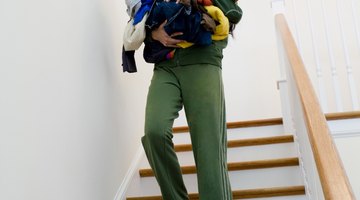 Simply altering the staircase materials can help create a new design as well. Looking at various alternatives, you can make the best decisions to get the staircase you want.
Things You Will Need
Sketch pad
Colored pencils
Wood veneer
Plywood
Home magazines
Carpet
Metal components for stringers
Metal treads (textured)
½-inch plywood
Nails
Screws
Solid wood sheeting
Metal sheeting
Stain
Tiles
Rubber-based tread materials
Go over options to change the staircase design. Look at ways to add plywood over the back of each riser and perhaps install tile on riser fronts. Another option is to make sketches of the stairs with colored pencils to consider adding wood veneer over plywood on each riser. For example, look through magazines to see if a staircase with all hardwood components will fit your room. Ask yourself if installing carpet to wrap each tread space is a good idea.

Make changes to ensure safety. Plan to install carpet wrapped around each step to emphasize the open risers. However, buy carpet that is not slippery. Install metal components to stringers and treads to play up the high-tech look of the open risers. Choose metal treads that have texture versus installing slick metal treads, which can cause tripping.

Use ½-inch plywood to fill the backs of open-riser steps. Nail or screw this material into place so it will support added wood components, carpet or tile in a secure fashion. Attach metal material in the open riser areas of each step, if you desire, but check to ensure that the metal will fit tightly and not have visible gaps. Don't allow light to show through around riser space or the steps will look tacky. Keep in mind that the risers are the most visible areas of any steps when facing them or climbing them.

Install carpet to cover bare plywood risers by running a continual section of carpet from top to bottom on steps. Use carpet as the most inexpensive way to create great visual appeal. Buy carpet that will hold up well over time, so purchase high-end carpet versus the cheapest grade. Research types of carpet so you can look for these grades or brands at close-out sales. Avoid anything but high-quality materials and brands, because the carpeted tread surfaces will wear unevenly over time if inappropriate carpet is used.

Cover the back of steps with solid material on a sloping angle, if treads are deep enough. Use solid wood or meeting sheeting to enclose the sloping area of steps without fitting each riser separately. Ensure that you can easily walk up steps with plenty of toe room to use this method. Envision this design as securing large sheets of plywood under the steps, fitting at an angle from top to bottom. Stain the plywood a dark walnut, for example, and use rough-textured tiles or rubber-based tread material on the actual stepping surfaces.
References
Resources
Writer Bio
Judi Light Hopson is a national columnist for McClatchy Newspapers. She is founder of Hopson Global Education and Training and co-author of the college textbook, Burnout to Balance: EMS Stress. She holds a degree in psychology from East Tennessee State University, and has been a professional writer for 25 years.
Photo Credits
David Sacks/Lifesize/Getty Images
David Sacks/Lifesize/Getty Images
More Articles