How to Make Dining Table Pads
Dining table pads protect your wood furniture surfaces from scuffs, dings and dents. Table pads come in a range of materials and styles, and you can find many companies that will make dining table pads to custom fit your tabletop. However, manufactured table pads are a costly investment.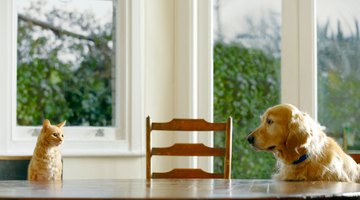 Making your own table pads may make the most economical sense, and the process is not very difficult.
Things You Will Need
Vinyl foam matting or rubber sheet matting
Chalk
Utility knife
Thin wood veneer with or without backing
Electric table saw
Heavy-duty shears
Double-sided tape
Wood finish or stain
Tip
Table pads will protect your wood table surface from getting scratched by plates and utensils. The pad is not resistant to extreme temperatures, so always use hot mats for hot pots
Make a pattern of the tabletop shape so that you can cut out the correct shape from the vinyl padding. For tables that aren't circular or rectangular or easily copied, place the dining table upside down over the vinyl pad, if possible, and trace the outline with chalk or a pencil. Alternatively, you could order a free pattern kit, which many dining table pad companies offer. Many manufacturers will send you the pattern kit before you order with no obligation. You can then transfer that pattern to the vinyl pad.

Cut out the shape from the vinyl padding using a utility knife. You can make the table pad slightly wider and longer than the table top to get maximum coverage. For a very large table, make the table pad in sections. You may want to cut the vinyl padding in half or in thirds.

Roll out the veneer and lay the cut vinyl matting on top so that the vinyl is in contact with the underside of the veneer. If you have to use several sheets of veneer, lay them until they are flush. Place the tabletop pattern so that when you cut the wood veneer, you are cutting with the grain as much as possible. Use an electric table saw to cut the veneer. For some woods and veneer thicknesses, you may be able to use heavy-duty shears.

Before attaching the vinyl to the veneer, lay the unit on the table to check that everything fits. Trim if necessary.

Affix the wood veneer to the vinyl with double-sided tape.

Finish the table pad with a coat of stain or polyurethane. When it has completely cured, the dining table pad is ready to use.
References
Resources
Writer Bio
This article was written by PocketSense staff. If you have any questions, please reach out to us on our contact us page.
Photo Credits
Janie Airey/Lifesize/Getty Images
Janie Airey/Lifesize/Getty Images
More Articles