How to Replace Futon Mattress Stuffing
Futons provide small living spaces and guest rooms with a place to sleep and lounge with versatility. Sometimes the stuffing in a futon mattress isn't thick enough to suit your needs. Other times the stuffing wears down, becomes thin and needs replacement.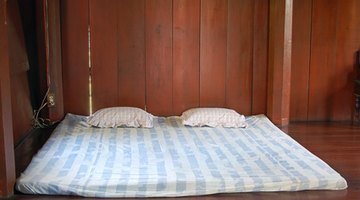 Replacing futon mattress stuffing proves to be an easy task that doesn't take much time.
Locate the zipper at the one of the sides of the futon mattress. All commercially manufactured futons feature zippered sides for ease of cleaning and maintenance.

Fold the top layer of the futon's cover open wide to expose the stuffing inside.

Remove the stuffing by either rolling it in one piece and pulling it out or piece by piece. Discard the old stuffing.

Layer approximately 4 inches of cotton batting over the inside of the spread-out futon cover. Stuff more in if you want a firmer, thicker mattress. For a soft effect layer about 3 inches of goose down feathers over top the cotton batting.

Place the top of the cover back over the exposed filling, and zip up the futon.
Things You Will Need
Futon mattress pad
Bag of cotton or feather batting (amount optional)
Tip
Press and roll on the futon to disperse the stuffing evenly throughout the mattress.
Writer Bio
The author of such novels as "Planet Omega" and the romantic drama, "Chloe and Louis," Chelsea Hoffman devotes her time to writing about a myriad of different topics like gardening, beauty, crafts, cooking and medical research. She's published with Dobegreen.Com, The Daily Glow and other websites, and maintains the site Beauty Made Fresh.
Photo Credits
floorbed image by Adrian Hillman from Fotolia.com
floorbed image by Adrian Hillman from Fotolia.com
More Articles