How to Ship a Piece of Furniture
Most furniture is too bulky to ship using a standard package delivery service. For the safest and most cost-efficient shipping method, use an LTL (less than truckload) freight company. They're experienced in this kind of shipping and charge by the amount of space your furniture uses on the truck.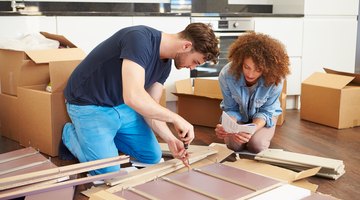 Package-shipping services have size and weight restrictions that can make it expensive to ship larger items such as furniture. With that in mind, it might be easier and more cost effective to ship furniture via truck than a service that's better known for clothing or electronics. There are freight companies that specialize in shipping furniture and can do so in a manner that won't put a dent in furniture or the wallet.
If the furniture is a new purchase, the store usually handles delivery and charges a standard shipping fee at the time of purchase. Because it's in the store's best interests to send furniture in a timely manner with minimal damage, they have procedures in place for packing each piece so it doesn't dent or ding. Furniture stores have relationships with trucking companies and are your best bet for the cheapest rate.
When shipping furniture from a home or business, it's best to contact a freight company that specializes in this type of delivery.
Choosing a Shipping Company
An LTL (less than truckload) freight company charges by the amount of space the item uses when it's on the truck, the weight of the item, and distance the piece is traveling. To get an accurate quote, provide the furniture's class code, height, weight, and width. The freight company should have shipping class listed on their website. If not, they'll share that information when giving their quote. As each company has their own set of rules and regulations, It's a good idea to ask if they have specific regulations for packing the piece.
Packing Furniture for Shipping
Take the furniture apart before shipping if possible. Unscrew legs from chairs and take extra table pieces out before preparing the furniture for shipment. A separate box may be necessary for hardware, cushions, or smaller pieces.
Wrap each in thick bubble paper and use strong packing tape to secure the wrapping. Tape furniture legs and other items to the main piece so nothing gets lost. After all the components are taped together, cover the furniture in plastic sheeting for an additional layer of protection. If the furniture is small enough to fit inside a cardboard box, use one in addition to the wrapping. Shipping peanuts or foam blocks can help to prevent the furniture from moving around inside the box.
The freight company will take additional measures to secure the furniture and keep it safe. They may attach it to a pallet and cover it with moving blankets. This is all covered in the shipping cost, but don't be afraid to ask if it's included in the quote.
Ready for Pick Up
Use a clear, easy-to-read shipping label on the packed furniture. Include the pickup address, the consignee's address (destination), and a phone number for both parties. Write any reference numbers in bold letters on the outside of the packaging.
Have the furniture waiting outside at ground level for pick-up on the agreed-upon time and date. The shipping company gives a "window of opportunity" for pickup time. If a lift-gate is needed to get a heavy piece of furniture on the truck, it will be an additional charge.
References
Writer Bio
Louise Balle has been writing Web articles since 2004, covering everything from business promotion to topics on beauty. Her work can be found on various websites. She has a small-business background and experience as a layout and graphics designer for Web and book projects.
More Articles