How to Fix a Microwave With No Power
Unlike a conventional oven, which can be hard-wired, a microwave requires either an ordinary three-pronged outlet—common in any kitchen--or a four-pronged outlet. Four-pronged outlets are used in over-the-range hood-type microwave installations.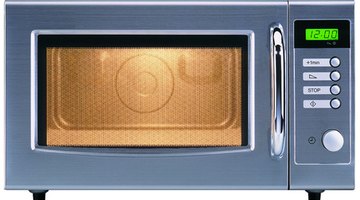 Common three-pronged outlets are used for portable microwaves like the kind you can pick up in any household goods store. Fixing a microwave with no power is simply a matter of identifying the power problem.
Plug the microwave into the outlet if the microwave won't power up. Make sure the plugs on the microwave match the type of outlet. A four-pronged outlet can only be used with a four-pronged plug. Same with three-pronged outlets—they only work with three-pronged plugs.

Inspect the plug. Make sure it hasn't been cut or tampered with. Four-pronged plugs can't be cut down to fit a three-pronged outlet. Three-pronged plugs mustn't be forced into four-pronged outlets. A three-pronged plug mustn't be used in a two-pronged outlet, either.

Replace blown fuses, or if there's a circuit breaker, check it for tripped breakers. Sometimes the trip won't be obvious, so cycle the circuit breakers. Turn them all the way off and then back on again.

Plug another appliance in the outlet. You will find this easier with three-pronged appliances. Simply plug a toaster, or other appliance into the microwave's outlet, and see if it works. If it works, you know the problem is with the microwave, not the power circuit. Have the microwave serviced or replace it. If the toaster or other appliance doesn't turn on, you know the problem is with the circuit.
References
Writer Bio
Patrick Nelson has been a professional writer since 1992. He was editor and publisher of the music industry trade publication "Producer Report" and has written for a number of technology blogs. Nelson studied design at Hornsey Art School.
Photo Credits
micro wave oven image by mattmatt73 from Fotolia.com
micro wave oven image by mattmatt73 from Fotolia.com
More Articles