How to Make Pellet Fuel Out of Paper
Pellet stoves are heating devices that replace or supplement furnaces and wood-burning stoves. They are a newer technology invented to attempt to find a solution to the problem of fossil fuel dependency. Pellet stoves resemble wood-burning stoves, but they burn pellet fuel.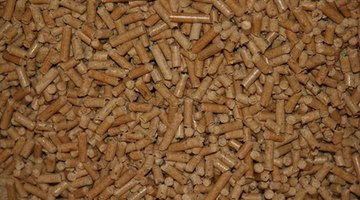 The fuel is compacted from sawdust, leaves and other biomass such as crop waste or recycled paper. The pellets are sold in stores, but you can also buy a pellet mill and make your own. The mills are very expensive but can help you reduce your heating fuel costs over time. Using recycled paper for pellets is also effective in reducing landfill waste.
Things You Will Need
Recycled paper
Hammer mill
Box
Pellet mill
Bucket
Tip
Do not use an office paper shredder to make pellets because the paper pieces will not be small enough to use in the pellet mill. In addition, office paper shredders are not built to handle the capacity required to make paper pellets. Using a hammer mill to shred your old documents is a good way to prevent identity theft. They will be unreadable after shredding. If the pellets seem wet and do not burn well, try letting the shredded paper dry out before feeding it into the pellet mill. According to World Forest Industries, the moisture content should be between 10 and 20 percent for optimum results.
Warning
Shredding paper to the required size will create a lot of dust. Wear a mask to protect your lungs. Use the shredder and pellet mill in a well-ventilated area to avoid combustion of the dust.
Collect the paper to make into pellets. Use recycled paper such as newspaper, pizza boxes, junk mail and old documents you no longer need. Tear the recycled paper into pieces small enough to fit into the hopper of your hammer mill.

Place a box under the chute of the hammer mill. Turn on the hammer mill, and slowly feed the paper pieces into the hopper. Shredded paper will fall into the box under the chute.

Place a bucket below the chute of the pellet mill. Turn on the pellet mill, and slowly feed the shredded paper into the hopper. In a few seconds, pellets will begin to come out of the chute and fall into the bucket.

Continue the process until all the shredded paper is gone. Repeat this procedure periodically to use all your recycled paper.
References
Resources
Writer Bio
Karren Doll Tolliver holds a Bachelor of English from Mississippi University for Women and a CELTA teaching certificate from Akcent Language School in Prague. Also a photographer, she records adventures by camera, combining photos with journals in her blogs. Her latest book, "A Travel for Taste: Germany," was published in 2015.
Photo Credits
pellets image by Rupert Roth from Fotolia.com
pellets image by Rupert Roth from Fotolia.com
More Articles