How do I Troubleshoot a Miller Furnace?
Miller manufactures high-efficiency furnaces pleasing to the eye as well as durable. They have many features that add value to the unit, such as a pilot system that eliminates any outages and shuts down automatically if an outage occurs.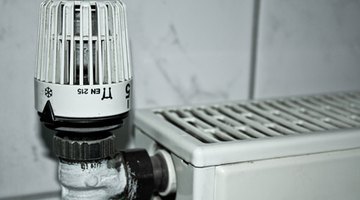 However, all home appliances and heating systems will develop problems and glitches at some point, and the Miller furnace is no exception. There are a number of troubleshooting steps you can run through before calling a service technician.
Tip
If the blower runs constantly, check to see if the fan switch is set to continuous circulation. Adjust the limit control. Lubricate the blower belt and bearings if you hear a squealing sound coming from the unit. The pilot will need to be adjusted if you hear a rumbling sound when the burners are off. Have a technician do this. If you hear a rumbling with the burners on, have a technician clean the burners. Replace the belt to the blower motor if it is at all frayed.
Warning
Do not disconnect any gas pipes attached to the furnace.
Turn off all other appliances if you smell gas. Do not turn on any light switches or use your home phone or cell phone. Cal the gas company from a neighbor's phone. If you are unable to connect with the gas company, call the fire department.
Check to see whether the thermostat is set too low or not working if the furnace does not heat up. It should be set higher than the room temperature. Inspect the electrical box for broken fuses or tripped breakers. Reset the breaker if necessary, and replace any broken fuses with another fuse of the same amperage.

Check whether the pilot light has gone out and needs to be re-lit. Follow the lighting instructions attached to the pilot grate door if your furnace has an electronic ignition button.

Check the air filter and gas burners for any blockages or dirt. Replace the air filter if necessary.

Lubricate the blower motor ports (at either side of the shaft) if the furnace switches on and off too quickly. Place a finger on the belt to check for correct tension. It should not depress any more than 1 inch at the center of the belt. Tighten the belt if needed.

Check the gas vent pipes (leading to the outside of the residence) for any blockages or obstructions. A blockage could cause the unit to shut off.
References
Writer Bio
Ross Glyn began writing for film and television in 1986. He wrote and directed the film "After The Rain" as well as the play "Soweto's Burning." He is a member of the Writers Guild Of America, the Screen Actors Guild and the American Federation of Television and Radio Artists. Ross holds a performer's degree from the London Academy of Music and Dramatic Art.
Photo Credits
Heizung image by nizo from Fotolia.com
Heizung image by nizo from Fotolia.com
More Articles