How to Refinish a Cast Iron Woodstove
Things You Will Need
Course wire rotary brush
Drill
0-gauge steel wool pads
Stove polish
Toothbrush
Fine wire rotary brush
Fine cloth
Tip
Maintain the finish by keeping your stove dry and by spot buffing the surface with stove polish as needed.
Warning
Wear eye, hand and face protection when cleaning the surface of the stove.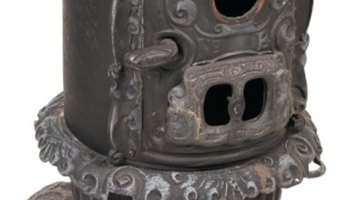 Cast iron stoves have a beauty and warmth that is unsurpassed by newer, modern-style stoves. Cast iron wood stoves that have rust on the exterior can be refinished with stove polish. Removing the rust is not an easy or clean job, but it can be done by a determined do-it-yourselfer. The effort required to refinish the stove depends on the extent of the rust. Make sure that the inside of the stove is in good condition before you begin refinishing a stove. A firebox that is in poor condition will require more extensive repair work than refinishing to make it functional and safe.
Insert a coarse wire rotary brush into a drill. Brush the entire exterior surface of the cast iron wood stove with the brush. Continue with this process until nearly all of the rust has been removed.

Buff out any remaining rust spots on the stove's exterior with 0-gauge steel wool pads. Rub the surface of the rust spots in a circular motion until the spots are removed.

Brush on stove polish with a toothbrush in a small circular motion until the entire exterior of the stove has been coated. Allow the polish to dry for 24 hours. Apply a second coat in the same manner. Allow the second coat to dry for 24 hours.

Insert a fine wire rotary brush into the drill. Buff the surface of the stone with the rotary brush. Refine the finish by rubbing the stove with a fine cloth until you are satisfied with the overall appearance of the stove.
Writer Bio
Jonah Morrissey has been writing for print and online publications since 2000. He began his career as a staff reporter/photographer for a weekly newspaper in upstate New York. Morrissey specializes in topics related to home-and-garden projects, green living and small business. He graduated from Saint Michael's College, earning a B.A. in political science with a minor in journalism and mass communications.
More Articles